PKR Review
PKR
Website:
pkr.com
PKR Bonus:
125% up to $500
PKR Bonus Code:
500BONUS

Rating

10

/

10

Reviewed by

PokerBonusCode.net
PKR Offers The Internet's Only 3-D Experience
PKR's unique three dimensional software is the one thing that really sets it apart from other online poker rooms on the internet.  In fact it looks more like a video game than anything else, and takes realism to a whole new level.  Not only that, but players can customize the look of their character at the tables to suit whatever their preferences are, including selecting from among numerous facial features, skin tones, eye color, hair color, clothing, jewelry, and more.  So instead of just selecting from among a few fairly limited choices like other poker sites offer you, at PKR your character really defines what you want to look like.
[youtube_sc url=QC3gRqUtDOY width=640 height=480 rel=0 fs=1 autohide=1 modestbranding=1]
The Added Realism at PKR Doesn't Stop Here Though
This is all of course in 3D and the appearance of things not only is much more interesting to watch during your online poker games, it also provides the opportunities to gain tells on your opponents, and thus brings in some unique elements that you don't normally see in online poker.  For instance, at PKR, your hand isn't just laid out in front of you like just about every other online poker room.  This is like real poker, where you peek at your cards when you first are dealt them, and then if you forget what you have, you need to peek again.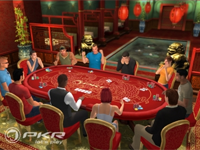 Whenever you need to look at your cards again though, just as in live poker, your opponents can see you doing this.  So that may or may not indicate that you have a certain hand.  For instance, there are two to a suit on the board and you see someone looking at their cards again.  Does this mean he might have a flush draw?  Does he or she normally look at their cards when they have a hand but don't when they bluff?  As you can easily see, this all bring some interesting variations into play that you see in live poker but just don't run into at other poker rooms generally.
The added realism of the action at PKR doesn't just stop with needing to peek at your cards and having your opponents see you doing it as they would at a real poker game.  The folks at PKR have worked hard to make your entire experience there as real as they can make it and there are several other actions which you'll see players making at the tables which are visible to all seated at it.  It's safe to say that there is nothing like PKR on the internet and no one else even tries to match the realism that they bring to the game.
Even If Realism Isn't Your Thing, The Setup Promotes A Much Higher Fish Ratio
There are several reasons why the setup at PKR attracts a much higher fish to good player ratio.  For starters, their software just isn't geared to players who play a lot of tables.  It takes up a lot more of your computer's resources per table, so it's difficult to have a lot of tables open.  An even bigger reason why multi-tablers, who tend to be the best players online, avoid PKR is that they don't really have the time to fiddle around with having to peek at their cards and need their hands displayed continuously to have any idea what's going on.
If this weren't enough, and it definitely is, better poker players avoid poker rooms like the plague if the poker room doesn't allow them to use programs like Poker Tracker 3 and Hold'em Manager.  PKR doesn't allow its hands to be accessed by these programs, so that's another big reason why the sharks stay away from PKR.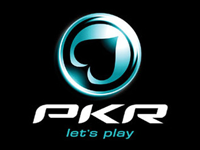 No matter what our skill level, we definitely should all welcome anything that will soften the competition by keeping the good poker players away.  I can tell you that there's probably no one in the entire world that's more into stat tracking programs than I am.  I was one of the innovators in the industry back when this all first started and I've taught people how to get the most out of them for years.  Playing without stats to me is almost unthinkable.  However when I hear that a poker room doesn't allow it, there's few things that get me more excited.
The fact is that these days, only the worst poker players would even consider playing without stats.  So if a poker room doesn't allow it, well that's just about as good as things get really, since just about everyone playing there will be a donkey.  You won't need a poker stat program to beat these people out of all of their money, and the only real requirement on your part is to not play as stupid as they do, which won't be difficult at all.  If you play well though, then you're in for a real treat at a place like this versus how you'd do pretty much anywhere else.
The Coolness Of PKR Is Also A Big Draw For Fish
So we know that the sharks won't play at a place like this, but that alone isn't enough.  To complete the puzzle, our ideal poker room also would offer something that would be a big draw for a lot of newer players and other real bad ones.  Luckily, the three dimensional realism and other nice features of the PKR platform really attracts these fish, and in great numbers in fact.  When you look at all the things that PKR has to offer, it's not hard to see why.
I'll be honest with you, to a serious player like myself all of this is pretty much a circus.  But in this case the circus is in town and there are a lot of suckers that are drawn in by it, and where the suckers are, that's where I want to be as well.  So that's the main reason why I love PKR as much as I do.
If You're A New Player Yourself, Who Would You Rather Play Against?
Due to all of the reasons listed above, I've heard the level of competition at PKR being described as "ridiculously soft."  Since my sole goal at the poker table is to make as much money as possible, that's music to my ears for sure.  However, if you're a newer player or haven't really figured out the game yet, would you rather play against other newer players and novices, or better players who will smoke you and clean you out before you even know how they did it?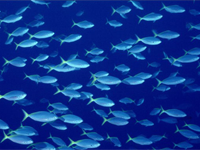 Soft competition is in fact very important for every player regardless of your skill level, and in fact, the less skilled you are the more important it is.  You probably won't even survive very long at a poker site full of skilled players.  There are some poker rooms where the players are very good even at the penny ante games and the buck a pop tournaments.  The only way anyone can make any money there is to play 12 or 16 tables or whatever and their very small edge at each of them can be made to add up to something half decent at least.
So we're talking good players having trouble beating the games at some poker sites, so if you're not that good yet, how do you think that you'll do at these games?  I can't tell you how many players bust out over and over and over again and never really have much of a chance to get anywhere, simply because they are playing at the wrong poker sites.  I can't tell you how many people's games I've turned around as a poker coach simply by getting them to change to an easier poker room to win at.  And I can tell you with all honesty that they don't get much easier than PKR.
PKR's Nice Bonus Offers Are Geared To Benefit Even The Smallest Depositors
I've had a lot of new players ask me where they can get involved in real money poker for a small amount of money.  Most poker sites accept deposits as small as $20, but what if you only want to spend $10?  It's very hard to find a poker room which will take this small amount, but PKR is the exception.  What's even better, they will give you $5 free.  What's even better than that, they don't make you wait to play a whole bunch of hands to give it to you, and you might not even be around to see the money if that were the case, given that you have so little to play with.
So all you have to do with this deal from PKR is to collect a single PKR point and they give you your free $5 right into your account right away.  Now you've got $15 instead of $10, you don't have to worry about freeing up your bonus anymore as it's already yours, and you've given yourself a lot bigger chance to succeed.  To take advantage of this deal, you'll need to go through our link to PKR and enter in our bonus code, which is "PBC5".  Just think of PBC as standing for Poker Bonus Code, and then put in the 5, which is how much money you're getting for free.  Even better, write it down as you don't want to forget it.
The More You Deposit At PKR, The More You Get
Most players will have more than $10 to get started with, and if so, you are going to want to get more than just a $10 bonus.  If you can deposit $25 or more, PKR will double your initial deposit, up to $150 in free bonus money.  If you can deposit $150 or more, the deal gets even better, and they will be then giving you 125% of your initial deposit, up to a maximum of $500 in bonus money.
Use our bonus code "PBC150" for the $25 or more deal, and "PBC500" for the $150 or more offer.
So it is going to really pay for you to dig real deep this time, and get as much money in PKR as you can starting out, since the more you put in initially, up to a deposit of $400, the more PKR gives you in free money, up to the maximum of $500.
In order to get the larger bonuses, you will need to play some poker to free up your bonus money from them, as is the case with all poker bonus deals, although you can rest assured knowing that PKR's bonuses are among the easiest in the industry to have released.  They are paying you to try out their poker site though, so it only makes sense that you have to do your part and actually try it out.  They are so confident that you'll like it there that they are willing to pay you this much to do it, although once you've gotten paid the nice cash they will be giving you, it will be completely up to you to decide whether you want to continue there or not, and you're free to take your money out if you wish.
This is a pretty cool poker site though as I've said and you'll probably end up wanting to keep at least some of your bankroll there.  What a lot of successful bonus hunters do is just take out the bonus money they've earned and then revisit our site and select another one of our great offers.  So they end up having both money at the site that they deposited at, and use the bonus money to go after more bonuses.  This ends up leveraging the bonus money you get and has the effect of taking your bonus profit and doubling it up again at another poker site, which you can do a number of times.
In the end you'll have turned your initial deposit into a nice bankroll at many different poker sites, in addition to having the pleasure of trying them all out to see which ones you like best.  Is it any wonder why so many players are so excited about the bonus deals that poker sites have for you?  You definitely should be bookmarking our site to return again as we add new deals for you all the time.
To take advantage of the PKR bonus deal we have for you, you will need to go through our link to PKR and also enter in our PKR bonus code which is "PBC5", "PBC150", or "PBC500" depending on the size of the deposit that you are planning on making.  Jot this down on your computer or a note pad so you'll have it handy to enter it in when you visit PKR in a few minutes to register.
Best PKR Bonus Codes 2018

| PKR Bonus Code | Percentage | Maximum Bonus | Description |
| --- | --- | --- | --- |
| PBC5 | – | $5 Free | New 2018, Beginner bonus |
| PBC150 | 100% | $150 | New 2018, Intermediate bonus |
| PBC500  | 125% | $500 | New 2018, Advanced bonus |
Other Bonuses And Promotions At PKR
The more you play at PKR, the bigger the rewards that you'll earn from them.  With each raked hand that you play and with every tournament that you enter, you earn PKR Points.  Then once you're ready, you cash them in for a wide selection of cool merchandise from the PKR store.  If you prefer, you can also spend them on entering PKR tournaments to win even more money.  They even start you out with 1500 PKR Points to get you on your way to your first cash-in.  PKR also offers regular reload bonuses, where you can put some more money in and get paid extra bonus money once again, which is always great and always worth taking advantage of.
They also have a VIP Club called Club PKR,  which every player is automatically given membership to.  Then, based upon how much you play, you can climb up the ranks, from Member where you start out at, to the Bronze, Silver, Gold, Platinum, and finally the Diamond level.  Unlike other poker sites, once you achieve a promotion, it's yours to keep for life.  With each move up the ranks, you get even better treatment, and you also earn bigger and bigger rewards per amount of play.
Traffic Levels At PKR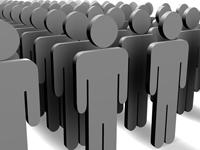 Although PKR is a stand alone poker room, meaning that they don't share players over a network like most poker rooms do these days, there's still plenty of traffic at PKR.  It doesn't have anywhere near the amount of players online at any one time that the biggest poker sites do, but there's more than enough action.  Many poker players overestimate the importance of traffic and end up just playing at the biggest poker sites as a result.  When you think about it though, why do you need 100 tables to choose from when you're only looking to play at one or a few?  PKR has plenty of them running at any time of day to take care of all your needs here.  They are also one of the fastest growing poker sites around, and the expectation is that this will continue.
However, as I've mentioned earlier in this review, quality of traffic is much more important than quantity.  What I mean by quality is the ratio of good to bad players, where you want as many bad players as possible and as few good players as possible.  Once again, PKR scares away most of the bad players, and its cool format also attracts a lot of fish.  So this is the ideal situation really, and more than enough reason by itself to need to have an account here.
In fact I can't emphasize enough how critical softness of competition is, and everything else pales in comparison in fact.  It doesn't matter how bad or how good a player you are.  If you're the worst player in the world, you'll lose a lot less money playing against bad players.  If you're the best player in the world, you'll make a lot more money playing against these players.  No matter where you lie in between, you'll do much better playing against fishy competition.  PKR is among the softest places to play on the internet, so it stands to reason that this is a poker site you definitely want to give yourself the opportunity to play at.
PKR Game And Stake Variety
PKR offers the two popular varieties of poker, which are Hold'em and Omaha.  Very few players play something other than these two so that's really not an issue.  Most poker sites also offer 7 Card Stud but very few people play that game anymore anyway, and if you are a Stud player we have other recommended poker sites which offer it.
In terms of the stakes that are offered at PKR, they have both limit and no limit games starting at 1 and 2 cent blinds.  This is great for newer players and if that is you then it's always best to start at the lowest stakes and then as you get better, move up then.  At PKR you can play as high as $100/$200 limit, and $5/10 no limit, so there's lots of room to  grow your game and play for bigger and bigger money as you go along.
PKR's Deposit And Withdrawal Options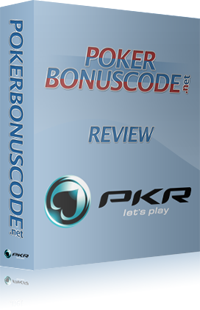 PKR offers many popular deposit options, including Visa, Mastercard, Electron, Delta, Firepay, Neteller, Moneybookers, Click2Pay, PaySafeCard, Maestro, Switch, and Solo cards.  So there's plenty of good options to deposit at PKR regardless of what your preferences are and what you have available to you.  When it comes time to cash out, you simply request a check or bank draft to be sent to you and it's on the way.  Their withdrawal options are therefore a lot more limited than most other poker sites, but some poker rooms don't offer even one good method to some players, and at least at PKR everyone can receive a check in the mail, so everyone is taken care of.
PKR Customer Service
In my mind, there's really only one good option to communicate with a poker site's support team, and that's through live chat.  PKR has email support, but if you've ever tried that, it can take many days to complete the deal.  You ask something, they email you back the next day with your response, then you reply to them, the next day they get back to you, and so on.  If you can chat live with someone, you can wrap the whole thing up in just a few minutes.  Not all poker sites have live chat, and fortunately, PKR is one of the ones that does.  This is a real plus for sure.
My Recommendation
I really do believe that poker players don't take advantage enough of welcome bonuses, and it's a whole lot better to get paid to play than just play without this nice extra cash being given to you.  Not all poker sites are worth trying out though, but the fact that a particular poker site is on our website here and I'm reviewing it for you should tell you that I feel that everyone should at least take a shot at it and try it.
Other than that, PKR is an above average poker room without a doubt, and its cool software alone is worth experiencing if you haven't yet.  The players are among the fishiest around, and while they aren't totally crazy like you get at some poker sites, their level of sophistication as poker players tends to be pretty low, which as I've mentioned is a very beneficial situation for us, even for brand new players.
So I'd recommend that anyone who has never played at PKR give it a try, and at least collect the bonus money that they are looking to give you just for doing so.  After that, it will be up to you to decide, although I really do think that you're going to like playing there as much as I do.  Don't forget to use our new 2018 PKR bonus codes:  For the instant $5, it's "PBC5", for the 100% match up to $150, it's "PBC150", and for the big one where you get 125% up to $500, use "PBC500".  Good luck at the tables!
PKR Bonus Code 2018
Get In On The Bonus Money With As Little As $10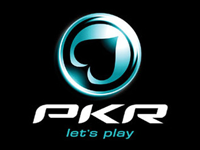 PKR has the smallest minimum deposit around, which is set at only $10, giving players who don't have a lot of money to deposit a chance to try out some real money poker at one of the best poker rooms around. The realism at PKR is unmatched, and when you combine that with real money poker then things really become exciting.
What's even better for $10 depositors is that we've arranged it so you don't even have to wait to collect your bonus money from them. Just use our special PKR bonus code "PBC5" and you'll get an additional $5 right in your account once you've collected a single PKR point. Write this code down as you will need it once you click on our link to go to PKR to sign up.
By the way, you need to both visit them through our special link and enter in our PKR code, so if you aren't ready to deposit yet, you still can and should at least register and download their software so everything will be in place when it's time to deposit.
This is a sweet deal as hardly any poker rooms are willing to put free money right in your hands like this, without playing a whole bunch of hands to free up your bonus. This is fine if you have a bigger bankroll than this, but to be honest, with just $10 we realize that you need the extra money right now, not later, to give yourself a lot better shot of sticking around to build this up to some real money.
So by using our PKR bonus code 2018 "PBC5", you'll get that chance and have more money to play with right off the bat, which is a big advantage to say the least. You still should play the smallest stakes though, as this won't really help you if you end up just blowing it off trying to get lucky. Of course you can deposit again, but why waste the free money when you have a chance like this for PKR to stake you with the extra $5?

PKR Has Two Other Great 2018 Bonus Offers As Well
There are two other bonus deals that PKR has rolled out for you in 2018, depending on how much you have to deposit.  f you have at least $25 to start out with, then you should be going after bigger money from PKR.
So if you can deposit at least $25, we've arranged for them to double your initial deposit for you up to an extra $150 in free poker money.   So for instance, if you deposit $50, you'll be eligible to get $50 in bonus money, and if you deposit, $100, you get an extra $100, right on up to the maximum under this deal of depositing $150 and getting $150 in bonus money.
The bonus code for this deal is "PBC150".
If you have $150 or more to deposit, the deal gets even better.  PKR will now give you not 100% but 125% of your initial deposit, to a maximum of $500.  So if you can just put in $400 to start, you will be eligible for the maximum amount.  Don't worry if you can't deposit this much, as regardless of what you can put in, PKR will be providing you with a very nice bonus.
The bonus code for this deal is "PBR500".
So the more you're able to deposit initially the better.  It's not just that you'll get a bigger bonus, although that's pretty important obviously.  What's even more important is that the more you have in your bankroll starting out, the bigger stakes you'll be able to safely play.
Now this doesn't necessarily mean you want to start out playing higher than the lowest stakes, and in fact if you've never played real money poker before that's the perfect place to start out at.  Then, once you've shown you can beat these stakes, you can try out the next stakes up, and so on.
The thing is, you need both the skill and the size of bankroll to move up safely, and thus it stands to reason that the bigger that your bankroll is starting out, the better chance you'll have to do this.  As well, you're also better able to stand a run of bad luck with a bigger bankroll than a smaller one.  When you add in the extra benefits of the extra bonus money, then this makes it even more important and profitable to go bigger.  So if there is ever a time when you want to dig as deep as you can into your pockets to make a poker deposit, this is it.
Use Our Special Bonus Codes To Automatically Maximize Your Bonus At PKR
Once again, you'll need to go through our special link to PKR Poker and also enter in this bonus code, so jot them down now, and then when you're finished reading this article, click on our PKR link.  That way you don't have to bookmark this page and revisit it later if you're not quite ready to deposit yet.  You'll want to bookmark our site though to come back and take advantage of the many other great bonus deals we have in store for you, once you've collected on the PKR one.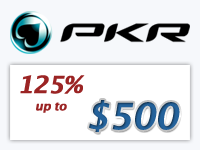 It doesn't make any difference if you register and download their software now or later, as once you sign up there, the PKR bonus codes that we have for you, "PBC5", "PBC150", or "PBC500", will entitle you to get this nice bonus deal down the road as well if you have to wait to deposit.  Sometimes poker rooms only offer certain bonuses for a limited time so if you do nothing and wait you could miss out on this one, and we don't want to see that happen.
Of course, if you can deposit right away, that's even better, as you will need to make a deposit in order to play for real money of course, and the sooner you do, the sooner you can start freeing up your bonus money.  The way it works is that once you've made your initial deposit, you need to play a certain amount of hands to collect the bonus money from them.
This is only fair, as they are paying you to try out their poker site and they want you to at least give them a fair shake before they pay you for this.  However, this isn't like a job, where you work and then get paid when the work is done.  Playing online poker is of course a lot of fun, and something you'd be more than happy to do from the enjoyment of it itself.  So when you get paid to play on top of that, it certainly is a bonus.
You Don't Have To Decide Between Bonus Offers
A mistake that some newer players tend to make is to consider all the great bonus offers that are out there, like all of the ones we offer our visitors at this site, and think in terms of having to choose one over another.  What I always ask people like this is why they would only pick one or a few of these great deals when they can pick them all?
In fact, the best way by far to build up your poker bankroll starting out is to take advantage of as many bonus offers as you can, which in fact should be all the great deals we have lined up for you at PokerBonusCode.net.  Poker bonuses are of course our specialty and with all the great bonuses we have for you, doing one or more or preferably all of these deals is a no brainer really.
You're here reading the PKR bonus review though so that naturally would be a good place to start, and their up to $500 bonus is certainly one of the better deals out there.  If you've already taken advantage of one or more of our other bonus deals, then you already know how cool these are.  It comes down to playing for nothing extra or playing for something nice extra, and given a choice like this, I'm sure I don't need to tell you which is better for you.
You Also Get 1500 PKR Points As An Added Bonus In 2018
When you make your first deposit at PKR, we've also arranged for you to get a nice amount of PKR Points to start out with.  These are frequent player points, which you accumulate as you play there, and then trade them in for all kinds of cool stuff.  We don't want you to start out at zero points though, so the initial bonus of the 1500 points gives you a nice head start.
Then, as you earn more, you can get a wide selection of merchandise from the PKR store.  And, unlike a lot of poker room stores, there's a lot of very nice stuff to choose from.  You can also use your points to enter PKR tournaments that normally require a real money buy-in.  In this case, who knows how much money these free points might lead to?
Just By Registering At PKR, You Are Entered To Win Some Great Prizes
You don't even need to make a deposit to be entered into a draw for one of four great prizes.  You could win a free entry into their $100,000 Guaranteed PKR Masters tournament, a ticket to their $10,000 Guaranteed Mini Masters tournament, a satellite entry into the Mini Masters where 1 in 5 qualify, or a package of three PKR Premium Freeroll tickets.  The best thing about this deal is that everyone who registers is a guaranteed winner of one of these prizes.
As You Can See, The PKR Bonus Deal Is Among The Sweetest Around
To sum up, regardless of how small or how big your initial deposit is, PKR has a great deal for you.  Hardly anyone gives instant money away, so if you only have a little money to deposit you'll love this.  If you have more, you'll love getting even more bonus money from PKR.  You also get a bonus of PKR Points and a nice welcome prize just for registering with them.  So all in all, this is definitely a premium offer.
Don't forget to go through our link to PKR and enter in either our PKR bonus code for the instant $5, which once again is "PBC5", if you are putting in between $25 and $150, go with "PBC150", or if you are depositing $150 or more, use "PBC500". Good luck at the tables!
Best PKR Bonus Codes 2018

| PKR Bonus Code | Percentage | Maximum Bonus | Description |
| --- | --- | --- | --- |
| PBC5 | – | $5 Free | New 2018, Beginner bonus |
| PBC150 | 100% | $150 | New 2018, Intermediate bonus |
| PBC500  | 125% | $500 | New 2018, Advanced bonus |
PKR Poker Tournaments
PKR Offers A Very Nice Variety Of Poker Tournaments
There's a long list of different options for poker tournaments at PKR and they are out to satisfy all tastes and preferences here, all presented in their exciting three dimensional format. This is perhaps as close as you'll ever get to the real thing, and as entertaining as tournaments are normally, they take on even more life when played at PKR. So let's have a look at everything that they have in store for you at PKR Poker.
Multi Table Tournaments at PKR
Bigger tournament fields lead to more excitement, as there are not only more players to compete against, but the amount of money you can win relative to the size of your buy-in grows as well. Depending on how well you do, a single multi table tournament can provide hours of enjoyment and entertainment. As the field narrows, the plot thickens, and it now becomes a contest of survival as you look to outwit and outlast your opponents and see your share of the prize money grow and grow. Where will you end up?
The current time in Londen (UK) is: 24-09-2023 04:22
24 September 2023 - Upcoming Tournaments at PKR

| Date/Time (London) | Name | Game | Type | Buy-in | Fee |
| --- | --- | --- | --- | --- | --- |
Single Table Tournaments at PKR
Single table tournaments, or sit n' go's, offer the excitement of bigger tournaments without having to wait for a scheduled time or commit a lot of time to playing a single tournament. You want to play right now, and perhaps you don't have several hours to spend playing that a multi table tournament might take. So a sit n' go would be a perfect choice right now. PKR offers a wide variety of them around the clock, so the game and format of your choice is ready for you whenever you are. These smaller tournaments are also perfect for those who are looking to learn the game and want to do so at a reduced risk than at cash games, which all tournaments offer, and at the same time want to minimize their variance, which is the potential for bankroll swings. They are a lot of fun as well and the next tournament is right away if you want it to be.
Choose From Among The Three Most Popular Games In Online Poker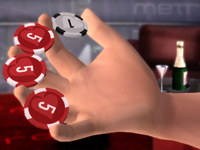 Whether you prefer Hold'em, Omaha, or Omaha Hi-Lo, you'll find plenty of tournaments to choose from at PKR. They also allow you to pick from limit, pot limit, and no limit formats. Texas Hold'em is of course the world's most popular form of poker right now, so that's the game that's laid out the most, as is the case with all poker sites these days. While Omaha is less popular, the skill level of players who play it tends to be even lower, so there's some good opportunity there for players who are willing to spend a little time looking to master it enough to beat the extra fishy players who tend to play it. When you consider the fishiness in general of the players who play at PKR, you can't really go wrong no matter which type of poker you choose.
You Choose The Speed Of The Tournament
PKR offers four different speeds, which are deep stack tournaments, regular stack, speed, and turbo. The deeper stacked tournaments take the longest to play, with regular speed blinds and more chips to play with. The longer the format, the more skill plays a role, as luck tends to even out over time, so the more time you have, the less of a factor it is. On the other hand, the greater the speed, the less time it takes to play a tournament, and the more you can play in a given time period. If you are less skilled then you may want to focus on the faster formats, although many skilled players enjoy these as well. I personally favor the longer formats myself but this has a lot to do with personal preferences and you get to decide for yourself which format you like best.
Full Ring, Short Handed, Or Heads Up?
PKR also offers the standard three different table sizes, once again to suit all tastes and preferences. Players who like to sit back and trap people will enjoy the full ring tables where there is a total of 10 seats, and the more opponents you have at the table, the more likely you can win chips from the looser players who play a worse range of cards than you do. On the opposite end of the spectrum is heads up poker, where it's just you and your opponent at the table, and the action is fast and furious and is the ultimate test of poker skill. In between are the short handed tables where there's a total of 6 players. This combines the patience of full ring in a more aggressive format, with the blinds coming around quicker and players required to play more hands and play a little more aggressively to be successful. All three table sizes present their own unique challenges and although newer players should start out at full ring, as you get better you'll enjoy the added intensity that having less opponents brings on.
PKR's Terminator Tournaments, For Those Who Really Like To Take People Out
It's always fun to eliminate people, and some players particularly enjoy this, and often you see players get involved in this quite a bit. There's generally no additional reward for doing this, other than of course taking the person's whole stack. Some tournaments offer bounty rewards, where if you eliminate a certain player, usually a pro, you collect additional money. With PKR's terminator tournaments though, they take this a step further, to the extreme in fact, and there is a bounty on everyone at these tournaments. So the goal is not only to win the tournament, but to see how many scalps you can collect.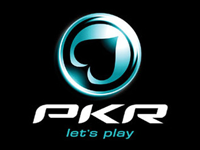 Watch out though, as people will be going after your scalp as well. And, the more people you eliminate, the bigger the bounty grows on your own head.
There are even variations of this where the entire prize pool gets distributed as bounties, where it then becomes a super aggressive head hunting contest, which certainly can add some real fun to the normal tournament structure, as well as some extra strategy.
PKR's Phase Tournaments
Phase tournaments are an excellent way for players with a smaller bankroll to earn a shot at playing for a lot bigger money than they would have the opportunity to otherwise. This isn't just a matter of needing to put together a string of wins to get to the big game as qualifying tournaments would be. Things are much more interesting at PKR's Phase tournaments. Depending on where you finish in your current phase, you can either move up to the next phase, repeat the same phase, move down to the phase below, or be eliminated.
The coolest thing about all of this is that you can do all this with a single buy-in, so you don't just buy in to a single tournament, you've got a shot at playing quite a few of them, and can turn $1 into $200 if you are good enough or lucky enough. They also let you buy in at whatever phase you want, so you don't just have to start at the bottom, paying just $1, although you certainly can. This is a great way to play sit n' go's as you can see.
Freerolls And Premium Freerolls At PKR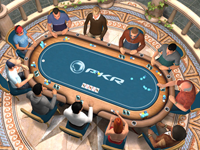 PKR offers a total of 12 daily freeroll tournaments where you can play for real money without investing a single cent. This is a great way for newer players to learn the game as the game play and the strategy required is as close as you can get to real money poker, and is much more realistic than just play money games. In fact, this is indeed real money poker, as the money you can win is very real.
They also offer 10 cent freerolls which offer the opportunity to play for bigger cash prizes. In addition, you can use the PKR Points that you earn from playing real money games to enter premium freerolls, with less entrants and bigger prizes, which give you a much better shot at things than a normal freeroll which isn't restricted to a lot less players.
PKR's Private Tournaments
Once you reach the Silver Level or above in PKR's VIP Club, you can then schedule your own private poker tournaments, where you get to decide who participates. These are real tournaments for real money by the way, and you can challenge all your friends to see who will come out on top. Needless to say, this can add a lot of fun to online poker, and you can even start your own poker league if you want. The ability to create your own private tournaments is just one of the added VIP benefits that you get as you climb the ladder to bigger and better rewards and treatment as you play at PKR.
Rebuy and Double And Triple Chance Tournaments At PKR
Every poker site offers rebuy tournaments, where during the rebuy period you can get another buy-in worth of chips when you go bust or when your stack drops below a certain amount. These tournaments can be a lot of fun or course, and PKR offers them as well. However, PKR is always looking to take things one step further, which they do with their double and triple chance tournaments. Often, with rebuy tournaments, players will very aggressively shove all sorts of hands looking to eventually build a monster stack. This strategy can work but it leaves a lot of other players frustrated, who don't have the money to do something like this.
In double and triple chance tournaments, you have a limited amount of lives so to speak, and specifically, two if it's a double chance and three if it's a triple chance. So obviously you're not going to just blow them off like some regular rebuy players do, and this then allows you to use this to hedge against bad luck. Even better, these extra lives are included in your original buy-in and thus you don't have to rebuy to get them.
PKR's Big Money Tournaments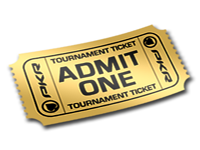 In addition to all this variety, PKR offers regular bigger money tournaments where the excitement really takes off. Once a month, they host The Masters Championship, with a guaranteed prize pool of $100,000, with a minimum of $25,000 going to the champion. Just like the WSOP, the final table of the Masters Championship is broadcast on TV, PKR TV in this case, with the players' hole cards revealed just like in the broadcasts of the big live tournaments. You can buy in directly to the event for $270, or win your seat through a number of qualifiers of differing buy in amounts, to make sure that everyone gets a good shot at this.
Every Sunday, they hold the Sunday Open, with a guaranteed prize pool of $15,000, and a very modest buy in amount of only $27.50. In addition to this, they hold many other large prize guaranteed tournaments, with various buy-ins of virtually every size, and there are too many to list in fact. PKR only knows one way to go, and that's all out.
Wrapping It All Up
As you can see, the people at PKR will stop at nothing to make your experience there as entertaining as they can make it. I've played at most of the poker sites on the internet over the years and I can tell you that PKR's tournaments are among the best anywhere. It's not hard to see that though just from looking at everything they have to offer, and there's even more than what I had time to list here in fact. When you add in everything else great about PKR, it's not hard to see why I feel it's such an excellent choice to play poker online.