Redkings Poker Review
Redkings Poker
Website:
redkings.com
Redkings Poker Bonus:
100% up to $1500
Redkings Poker Bonus Code:
PBC1500

Rating

7

/

10

Reviewed by

PokerBonusCode.net
Very Good Poker Site On The Ongame Network
Redkings Poker has been in operation since 2006, operating as part of the Ongame Network, which features a collection of 29 different poker rooms all sharing players and tables.  So for instance when you log in to one of them, you have a chance to play against all players from any of the rooms, which has served as a nice way to boost up the traffic for everyone.  As a result, the Ongame network, and Redkings Poker in turn, is one of the busiest poker rooms on the internet.  Among the poker rooms to choose from on this network, Redkings Poker is a very nice poker room and a very good choice of places to play online poker.
Redkings Offers Six Different Welcome Bonus Plans
There are a total of 6 different bonus offers to choose from, all geared toward a player's individual needs, deposit amounts, and frequency of play.  There are two main categories, which feature 3 different incremental bonus schemes where they release the bonus money in increments once you hit the required amount of Player Points to release it, and 3 different fixed bonus structures where players who have larger amounts to deposit and expect to play a lot can shoot for bigger payouts.
With the incremental deals, you have a full 90 days to earn the maximum bonus payout, and with the fixed deals they only give you 30 days to get it all and release it in one big chunk.  So the fixed deals are geared much more toward players who play a lot of tables at the same time, and this is especially the case given that there are only two levels that factor into points calculations, with the thing capped at a little under 10 points per hand total.
So what this means is that the bigger stakes players aren't given the points premium that you generally see at most other sites, so getting the bonus is much more a matter of playing more, including playing more tables, rather than just playing higher stakes.  This ends up working out better for small and medium stakes players or those who love to multi-table, but you can't just play some huge stakes and get the huge points payouts you can get at some other places.
The Incremental Bonus Deals
It starts with the "PBC250" bonus, which is designed for players with only a small amount to deposit and those who don't expect to play a whole lot.  If this is you then you will love this one.  There's no minimum deposit or match amount with any of these incremental bonus offers, and the only thing that matters is how much you play and how many Player Points you earn in the 90 days you have to get paid.  So in other words you can make a fairly small deposit and not be limited to a fairly small bonus amount.
With the Hearts bonus, you collect $10 in bonus money every time you earn 120 Player Points, which doesn't take long at all to get.  Once again, things are set up here in favor of smaller and medium stakes players so even with a modest deposit you can play the stakes where you earn the maximum amount of player points, the same amount as someone playing the huge stakes would.  So you can cash on this $10 bonus up to 25 times, and you can also deposit more money in there if you need to, and given the nice money that can be had, that would certainly be a good idea if somehow you run out of your initial deposit.  So if you only have a little to put in now and more later this works out very well.
Next on the scale is the "PBC500" bonus, which is released in increments of $50 up to a maximum bonus payout of $500.  This is geared toward players who have a little more to deposit, either all at once or within the 90 day timeframe they give you, and players that plan on playing a little more often or perhaps at a couple of tables instead of just one.  Remember though, there's no certain amount you have to deposit to get this, as opposed to most deals where you would have to put in $500 to be eligible.  Particularly if you're a good player, and play a little more than average, just putting in a couple of hundred or so can be more than enough to cash in on the whole $500 in bonus.
Finally, there's the "PBC1000", which gives you a full $1000 to aim for, released in increments of $100, and once again you have the 90 days to do it in.  This is more for multi-tablers who are looking to play at least a decent amount, or someone who plays only one table but expects to play a lot.  It's hard to go too far wrong though no matter which of these incremental bonuses you choose, and I'm only giving you suggestions here as to which one may be best for you.  I wouldn't spend a whole lot of time thinking about this though, just go with what feels right in terms of how much you have to deposit, how many tables you expect to play, how much time you'll be playing, and so on.
The Fixed Bonuses – Bigger Money For The Bigger Players
If you expect to play even more total hands, then the fixed bonuses may be the best choice.  There's three of them, which are "PBC1250", "PBC2000", and "PBC2500", with the number at the end being the bonus payout.  They match your initial deposit up to the max amount listed for each.  Obviously, the more you expect to put in and the more you expect to play, the bigger bonus you want to choose.  I will warn you though, these aren't designed for the casual player, and in fact are geared toward the real multi-tablers, playing 6 tables or more at the same time.
You'll need to play that many to have a shot at these, as you only have 30 days to do it instead of the 90 days you get with the incremental bonuses, and you have to earn enough Player Points to free up the entire thing to get paid.  So if you don't believe you're that big of a player, I'd stick to the incremental ones.  There are a lot of people out there who play 8, 12, even 16 tables at the same time who this would be perfect for.
I wouldn't bother with the first one, the "PBC1250", to be honest, as it's too close to the "PBC1000" one to justify having to shoot for the whole thing in 30 days instead of having three times as long and having it released in 10 increments instead of one.  However, with the other two, you're talking either $1000 more or $1500 more so that's a big difference of course and if you are up for it then by all means go for the big bucks.
Redkings Welcome Bonus Codes
I've listed the bonus codes you will need in describing the deals but here they are again.
"PBC250" for the $250 in bonus in $10 increments.
"PBC500" for the $500 in bonus in $50 increments.
"PBC1000" for the $1000 in bonus in $100 increments.
"PBC1250" for the 100% match up to $1250.
"PBC1500" for the 100% match up to $1500, which clears at only 8 points per Dollar.
"PBC2000" for the 100% match up to $2000.
"PBC2500 for the 100% match up to $2500.
Be sure to go through our special link and enter in the Redkings Poker bonus code of your choice once you register.
Redkings Also Offer Other Forms Of Gambling From The Same Account
In addition to offering some of the best poker games around, players who also enjoy sports betting and/or casino games can bet on these right from their poker account.  So no need to open separate accounts at separate sites and spread your money around too thin.  I'm a fairly serious sports bettor as well as poker player myself and I love being able to do it from one account, and I have plenty of money to spread around.  It's just so damn convenient.  If you have limited funds though, you certainly don't want to have to play lower stakes with your poker account just because you want to bet on something else as well.
They have a great deal with the sports betting at Redkings, and if you have a losing week or losing month they will give you up to 20% of your losses back.  Even the best of us have losing streaks and this is a crazy good deal as betting operations don't normally do this for you of course.  If you like casino action, you can get an extra $1000 bonus for trying that out in addition to whatever poker bonus you choose.
More Bonuses From Redkings Poker
Once you get dealt a pair of pocket red kings, they give you an extra $300 in bonus money.  They only allow this once, but it's not that unusual and if you play there any decent amount of time, there's another $300 right in your pocket.  Of course you need to collect the usual amount of Player Points to cash in, but you get those just for playing there.  On top of this, if you get pocket red kings and lose the pot at showdown with them, you can get an extra $500 in bonus money this way.  With both of these, you need to write down the hand number and email them to tell them about it, which isn't too hard to do for this kind of money though.
They also offer reload bonuses from time to time, as is the case with many other sites, where you can have another go at some real good bonus money just by making another deposit.  These are always great deals and always well worth taking advantage of.
Redkings Poker Refer A Friend Bonus
If all this weren't enough, they also have a refer a friend bonus that gives you $50 in bonus money for every friend that you refer that signs up with them.  Your friends also get an extra $50 as well.  Refer a friend bonuses are a great way to build up your bankroll, especially if it's on the smaller side, but who wouldn't want to get paid $50 per friend referred?  We all know quite a few people online and especially if you're a poker player you probably know a bunch of people who may be interested in this deal, and you're helping them out as well with extra bonus cash for them as well as you.
Traffic Levels At Redkings Poker
As I mentioned, Redkings Poker is part of the Ongame Poker Network, which is a collection of a total of 29 online poker sites.  Many of these sites are too small to bother with, and one of the things I like to see in the poker rooms I recommend is it being a very solid operation which has also been around for awhile.  Redkings is indeed a very solid company and therefore is an excellent choice among the rooms on this network.
The traffic on this network is very good an in fact and is consistently in the top 5 poker rooms on the internet in terms of the amount of players online at any given time.  This is more than enough to satisfy players of any stake level or game preference.  There are lots of cash tables, and the Redkings Poker tournaments in particular are busy.  If you've read some of my other reviews you know that I don't consider traffic levels to be anywhere as big a deal as a lot of players think it is, but when you have good traffic like you see at Redkings Poker, it's certainly a bonus.
Softness Of Competition at Redkings
The lower stake games in particular are very soft at Redkings Poker.  If you're new to the game or are struggling to become a winning player overall, these are the kind of games you want to be in.  It's important that you don't play beyond the stakes you're capable of beating, and therefore if you're in this boat you want to certainly concentrate on the lower stakes, not only because you're subject to losing less money there for now, the players tend to be easier to beat as well.  This is certainly the case at Redkings and in fact, playing there may be just what you need to start turning things around for yourself.
At the mid stakes, the players aren't quite as fishy, but this is to be expected, and it's still the case that they are a lot fishier than at the tougher sites to play at.  Overall, decent players or above won't have a hard time at all beating the mid stakes games here, and for a lot more money than they would at many other places.  If you're not at least a decent player then you have no business playing mid stakes anyway and should concentrate on playing lower until you get better.
At the higher stakes, you'll start running into some good players, but they are there to feast on the fish that you see at these levels, which are there in higher amounts than most other poker sites.  At these stakes, the fish do tend to draw the sharks, and the fact that the sharks are there should tell you something, and that is that this is a pretty good place to play these stakes at.  Overall, regardless of what you play, the competition is nice and soft here.
Tournaments At Redkings Poker
Redkings has quite a bit to offer tournament players, with lots of them of every variety running at any given time.  As with the cash games, they are known to be pretty fishy as well and you will do better at them here than at a lot of other poker sites.  Buy-ins start for as little as $1 up to several hundred dollars.  There is a very good selection of types to suit everyone's preference.
They also run a fair amount of freeroll tournaments, and although they don't have as many as some other poker sites, there's less entrants with theirs and therefore you have a better shot at winning some real money at them.  On the other end of the scale, they offer some very large tournaments as well, including their weekly $200,000 guaranteed tournament held every Sunday.  Whatever you like, you'll find it here.
Redkings Poker Software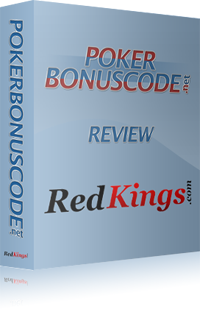 They offer both download and no download versions, so you can play at the office or other places where you may not be able to download software.  They also feature a mac version, which not a lot of poker rooms offer.  You can even play on your cell phone as they have a mobile version as well.  As you can see, Redkings is out to make sure everyone is taken care of well and this extends to all areas of their operation in fact.
In addition to all that, the software has a lot of features, including statistical analysis, above average note functions, and easy to use controls.  The software looks great as well and is very pleasing to the eye in fact.  It's also very customizable and multi-tablers in particular will love its clean support of up to 16 tables.  Overall the software here is a real hit.
Redkings Promotions And Loyalty Program
When you're not freeing up bonus cash from either their generous welcome bonuses, their frequent reload bonuses, their refer a friend bonuses, or even from having pocket red kings, you can use the points you earn to trade for nice rewards.  Players have an expectation these days of being rewarded for their play and Redkings does provide this nice extra, and in fact is known for being more generous here than a lot of other poker rooms are.
There are 7 VIP levels, and you start at the bottom and work your way up according to how much you play there.  With each level up, you get access to greater rewards and better and better VIP treatment.  At the mid levels they even assign you a personal VIP manager, and then as you move up you will be invited to play as a member of Team Redkings, and have access to their exclusive concierge service.  Of course there's also the points you earn, which can be traded for items at their shop or used for free entry into tournaments.
They also offer several cool promotions including a variety of leader board races where the more you play there, the higher you climb in rankings and perhaps become eligible for some nice additional prize money.  You also get a free ticket into their $10,000 Fish Market tournament, where they say the fish are guaranteed, and they mean it.  You can also compete for a seat at the main event at the World Series of Poker, and more.
Redkings Poker Customer Support And Security
In addition to email support which everyone offers, Redkings also offers 24 hour a day telephone and live chat support.  I personally prefer the live chat myself although some people prefer to talk on the phone, and both offer immediate support and answers to whatever questions you may have.  They are very responsive and helpful and score well in this category.
The security at Redkings is also very good and they employ the latest technology to ensure your experiences there are both very safe and also free of cheating.  The makers of their software are among the industry leaders in making the experience of all their players the best they can make it, and they succeed very well in this regard.
Deposit And Withdrawal Methods Available
For deposits, the available methods are Visa, Mastercard, InstaCash, Moneybookers, Webmoney, Click2Pay, GiroPay, and Western Union.  This is less than many other poker sites but there's still lots of selection to suit everyone's needs.  Western Union in particular is a nice one as it's available worldwide and this allows anyone to easily deposit there.  They even offer an additional bonus to those who deposit with Moneybookers
All of these methods are also available to cash out with, and with a lot of places, they will offer you plenty of ways to get money in but be pretty limited with what they will let you use to withdraw.  This isn't the case at all at Redkings which is great to see, especially if you're a winning player and therefore will want to be making regular withdrawals of your winnings.
My Recommendation
When you have a nice poker room like this, with plenty of traffic, plenty of fish, and a lot of other nice extras pay you to try them out, there should be no saying no to this.  I can't imagine why any online poker player wouldn't want to cash in on this.  The only decision you really need to make is which welcome bonus offer you are going to shoot for.  So go ahead and pick one, write down the bonus code for it, then visit them through our special link and get started!
Redkings Poker Bonus Code 2018
Lots Of Different Options In 2018 With Redkings Poker's Welcome Bonuses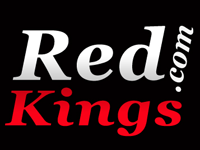 There are a total of 6 different options that Redkings Poker offers you, using a Redkings Poker bonus code, all suited to various types of players.  It all comes down to how much you are looking to put in and how much you expect to play.  It's very important to make the right selection though so it pays to read my advice here if you want to get the most out of their deals.
Do You Choose An Incremental Or Fixed Bonus In The Year 2018?
First of all I want to point out that the great thing about the bonuses at Redkings Poker, especially if you plan on making a small or medium sized deposit, is that the first three categories are incremental bonuses, where it doesn't matter how much you deposit.  The great thing is, if you put in $50 for instance, you're not limited to just having them match your deposit, as you can shoot for a lot more bonus money than this, up to the maximum allowed under the bonus deal you pick.
The bonuses with the incremental deals are also released in increments, and this depends on the particular bonus deal you pick, as there are three of them, all with different requirements.  With the fixed Redkings Poker bonuses, you are shooting to double your initial deposit up to a certain amount, and you have to free up the entire amount to get paid, so these are definitely for the bigger depositors and players.  So let's go over the 6 different deals in more detail:

PBC250 – The Entry Level Bonus (Hearts)
This is the perfect bonus for newer players and anyone actually that will be depositing less than a few hundred dollars.  I'd recommend that the cutoff be $250 or less here, so if you're depositing this amount or less, choose this bonus.  Your bonus money will be released in $10 increments every time you accumulate 120 player points, which isn't that hard to do.  You can do this 25 times for a total eligible bonus amount of $250, regardless of the size of your deposit.  Redkings gives you 90 days to collect as much as you can, so you definitely want to play enough to get the whole thing, and they haven't made it too difficult to do.  Use Redkings Poker bonus code "PBC250" to claim the Hearts bonus deal.
PBC500 – The Medium Sized Incremental Bonus (Diamonds)
If you're looking to deposit between $250 and $500, then you want to go after the Diamonds bonus.  Keep in mind that these amounts are only my suggestions based upon how much a typical player would play in 90 days, and if you expect to play a lot more than normal, and especially if you consider yourself a decent player or better, you should aim for higher amounts.  Keep in mind that if you lose all of your money, you will have to re-deposit to stay in the bonus game, so if you expect that you can do this if needed then that also should have you shooting for higher amounts.
So with the Diamond level bonus, they pay it out in $50 increments every time you get 500 Player Points.  So it would take you 600 Player Points to get the same amount with the smaller Hearts bonus, so that's one of the advantages of the Diamond level.  You also can get up to twice as much bonus money as well with this deal.  Once again, they give you a full 90 days to get as much as you can, and preferably the whole thing.
If you can hit over half of this one though, you're already ahead of the maximum you can get with the Hearts deal.  So once again, this all depends on the amount you can deposit, how good you are, and the possibility of your depositing more later on if you need to.  You can't really go too far wrong with any of these incremental choices though.  Use Redkings bonus code "PBC500" to claim the Diamonds offer.
PBC1000 – The Large Incremental Bonus Level (Kings)
This is similar to the other two, but is geared toward bigger depositors, typically those who can put in $500 or more.  With the Kings level, they release it in $100 increments every time you earn 900 Player Points.  So it's a better deal again in terms of getting the most out of your player points, but you are going to have to play more to get them.  You get the same 90 days to do it as the other two offers, and this time you can get up to $1000 in extra cash in your account if you manage to free up the whole thing.  As long as you can get half of it though you're better off than the Diamond level since that's the max you can get with that bonus deal, and you can shoot for more with this one.  For the Kings welcome bonus, use Redkings Poker code "PBC1000" to claim it.
Redkings Poker Bonuses 2018 – Lump Sum

| Redkings.com Bonus Code | Bonus | Name | Days | Increment | Points |
| --- | --- | --- | --- | --- | --- |
| PBC250 | $250 | Hearts | 90 days | $10 | 120 per increment |
| PBC500 | $500 | Diamonds | 90 days | $50 | 500 per increment |
| PBC1000 | $1000 | Kings | 90 days | $100 | 900 per increment |
PBC1250 – 100% Match Up To $1250 (Kings Size)
For bigger players, who plan on both depositing a lot and playing a lot, this is the first level of the fixed bonus offers.  You have to free up the whole thing to get paid though, and they only give you 30 days to do it instead of the 90 days with the incremental offers.  If you don't hit the required 10 points for every dollar with these, which in this case is 12,500 Player Points, you don't get paid.  So given that you can get $1000 for only 9000 points with the Kings incremental deal, and if you fall short you still get paid, and you have 3 times as long to do it, you need to make sure you're going to play a lot to go after this one.  I'd recommend that you leave this one alone and unless you're playing and depositing enough to take a shot at the other 2 higher fixed deals, go with the incremental Kings one.  Use Redkings Poker bonus code "PBC1250" to claim the first King Size bonus of 100% up to $1250.

PBC2000 – 100% Match Up To $2000 (King Size)
For the bigger players, now we're talking, as you get a chance not to just get an extra $250 over the Kings incremental deal, you are eligible to get twice as much, two grand in bonus money instead of just one.  It's the same 10 times your deposit amount and the same 30 day limit though, so you have to be an active player as well as deposit a lot to shoot for this one.  However, if you are, you can go for this deal and the one above it, the real King Sized deal.  Use Redkings Poker bonus code "PBC2000" to claim the second King Size bonus of 100% up to $2000.
PBC2500 – 100% Match Up To $2500 (King Size)
This is the big one, a full $2500 in free cash just for trying out the site.  The same terms apply to this deal as the other two fixed bonus deals, so you're going to have to be an especially active player to get this.  With all of these fixed deals, only multi-tablers need apply, although if you are one and have a large amount to put in, you shouldn't have any trouble hitting any of these.   I'm talking more than just two tables though, for the $2000 one above I'd say 4 tables or more, and for the $2500 one I'd suggest at least 6.  You can always ramp up the tables as you go if needed, as there is a lot of cash on the line as you can see and you don't want to end up falling short.  Use Redkings Poker bonus code "PBC2500" to claim the third King Size bonus of 100% up to $2500, which is also the highest Redkings Poker bonus.
Redkings.com Kings Size Bonuses 2018 – Match Up

| Redkings.com Bonus Code | Percentage | Bonus | Days | Clearings Rate |
| --- | --- | --- | --- | --- |
| PBC1250 | 100% | $1250 | 30 days | 10 Points per Dollar |
| PBC1500 | 100% | $1500 | 40 days | 8 Points per Dollar |
| PBC2000 | 100% | $2000 | 30 days | 10 Points per Dollar |
| PBC2500 | 100% | $2500 | 30 days | 10 Points per Dollar |
So, Also In 2018, It's Just A Matter Of Choosing Which One Is Best For You
I expect most players will be shooting for the first two, either the Hearts one for the smaller depositors, or the Diamonds one for those with a little more to put in, but for you bigger players, there's certainly some nice deals above this.  The nicest thing is that, unlike just about every site, what you get isn't determined by your initial deposit amount, and you can add more funds during the qualifying period if you need to.  So some real nice choices here, and it's just a matter of picking the one that you feel is best for you, and then go through our link and enter the appropriate Redkings Poker bonus code 2018.  By the way there's no reason to wait, as this deal may not last, and you want to lock in your preferred deal before the deal goes away.
Redkings Poker Tournaments
Redkings Poker Is Where The Fish Are
Poker tournaments have become the format of choice for the majority of online poker players. Given the added excitement that they bring, it's not hard to see why. Cash games are plenty fun enough but they can be seen as a grind by many players, especially the more casual ones who are involved mostly for the entertainment aspect of the game and simply become more entertained by tournaments.
These players are predominantly fish by the way, as you may expect, so this has the effect of making tournaments more fishy than normal. When you take into account the fishiness of Redkings Poker generally, then you're in for a real treat at their even fishier tournaments. Redkings isn't shy about this as some poker sites are, and in fact they run special tournaments for their newer players, which you can get involved in as well, which are appropriately named "$10,000 Guaranteed Fish Tournaments," where they say the fish are guaranteed, and it is like "shooting fish in a barrel."
It's hard to argue with that actually, given that so many of these newer players are really that bad. You won't find the regular tournaments quite this easy, but overall this is certainly a good spot to play them if you're looking to be more than entertained and are out for profit as well. Your expected profit in a tournament is directly related to the average skill level of its participants, and you can count on this average skill level to be deliciously low at Redkings no matter what type of tournament you choose.
Redkings Poker Offers Over $15 Million Worth Of Tournaments Each Month
Redkings offers a full array of different formats and buy in levels to suit everyone's preference and bankroll size. There's all the normal choices you see at poker rooms, and due to the very good traffic there you'll find plenty of them running at any time of the day or night. Due to the global diversity of this site, there is plenty of action going on even at off peak hours, unlike some poker sites who almost become a ghost town at certain times of the day.
Given that they offer a total of $15 million worth of tournaments each month, that in itself speaks to the breadth and scope of their tournament offerings. One thing that's for sure is that there is plenty of fun to be had playing tournaments here. Redkings does a good job at keeping things as interesting as they can, and they even have special tournaments where the participants are limited to certain regions, with prize pools ranging from $4,000 to $10,000. For instance there is the European Daily, the Canadian Daily, and the Aussie Daily, where you go against people from your area to see who comes out on top. There's also a Russian Daily tournament where you can chat with the other players in Russian. All of these tournaments run in prime time in each particular area.
Redkings Offers Some Really Big Prize Pools
Redkings offers their $300,000 ChampionChip every Sunday, with direct buy ins at $190 + $10, and qualifiers starting at $1 + $0.20. So you don't have to have a couple of hundred bucks to plunk down to shoot for this huge prize pool, as no matter how little you have to spend, you can take a shot at making the tournament and shooting for a piece of this big stack of cash.
Redkings also hosts their weekly $60,000 EU Grand Prix every Saturday in prime time in Europe, where players can take a shot at this very large prize pool where your chances are enhanced by the much smaller field than you see at the ChampionChip. Buy-ins for this one are $150 + $12, and once again, they offer plenty of qualifying tournaments to allow those with smaller budgets to earn a seat at it.
Redkings Poker Also Has A Nice Assortment Of Interesting Mid Sized Tourneys
Redkings has what they call their X2 Tournament, which allows players to play at two identical tournaments at the same time, for double the action and double the fun. It only costs $20 + $2 for both, and this gives you not one but two chances at the $4,000 guaranteed prize pool for each tournament. So once you're out of one, you're still in the game and still have a shot.
They also run Mad Tilt Tournaments which are fast and furious. If you're looking to blow off some steam, you won't have to wait long to get all your chips in on this one. You only get 100 chips and blinds start at 10/20. So they say you can Mad Tilt your way to one of their bigger tournaments this way, and these are the fastest tournaments in existence for sure.
Win A Seat At The World Series Of Poker At Redkings
Like many poker sites, Redkings also offers its players a shot at the main event at the World Series. They wil be sending several lucky players and they will be setting them up in style, with not only the $10,000 buy in, but $2300 in travel and spending money, and 10 nights at the Venetian Hotel with complimentary gym membership, free internet, night club tickets, and your choice of two double or a king sized bed. You also get an additional $400 for breakfast and the welcome event.
So they really make sure you're taken care of well, unlike a lot of poker site deals which are much more bare bones. They also offer a side event package which gives you the $1000 buy in plus an additional $2600 for travel, hotel, and spending money. The fields are a lot smaller in these side events and the prize money is still pretty nice so this is something worth shooting for as well.
There are plenty of qualifiers to both, although you can buy in directly to the final tournament for $300 + $20. The amount of packages awarded for both depend on the number of entrants of course. For players who wish to invest lesser amounts for a shot at this, they once again ensure there is plenty of opportunity for players of all bankroll sizes to get involved and have a shot at the ultimate poker fantasy.
Take A Shot At Playing In the GSOP Live Tournament Series
Redkings Poker is also associated with the exciting Grand Series Of Poker Live tournament series which are big events held in various locations around the world, similar to the World Poker Tour but with much more of an international flavor. This series is organized by the network that Redkings is on and is therefore both a big deal and an exclusive one. There are a lot of big time poker players that get involved and the prize money is substantial as well of course. You can earn a seat for as little as $1.05.
Lots Of Other Tournaments Including Plenty Of Single Table Tournaments
Regardless of what type of tournaments you prefer, there's always lots going on at any time of the day or night. There are plenty of sit n' go tournaments waiting for you whenever you want to play one, in various formats and at various buy in levels. The same is true for the smaller multi-table tournaments, and all you have to do is look at the schedule and pick one or more to register for. The tournament fun runs 24 hours a day at Redkings Poker.
Overall, Redkings Is A Great Choice For Tournament Players
As I always say, the most important thing in choosing a poker site to play at is the degree of fishiness there, and if you're looking to play tournaments, you not only need a good selection of them but the competition should also be soft as well, if how you do in them matters to you, which it should. Redkings Poker offers you both, meaning lots of tournaments to pick from and lots of fish to play against. Don't forget to review our recommendations as to the best bonus selection for your particular needs before you sign up through our special link and get ready to start the fun at Redkings Poker.