Bet365 Poker Review
Bet365 Poker
Website:
bet365poker.com
Bet365 Poker Bonus:
100% up to $365
Bet365 Poker Bonus Code:


Rating

9

/

10

Reviewed by

PokerBonusCode.net
Bet365 Is A Leader In Online Gaming
Since 2001, Bet365 has been offering high quality online gaming. As you might guess from their name, their main business focus has been sports betting, and they are one of the leaders in that field. So although their poker room isn't by itself one of the best known out there to poker players, and there are a lot of small rooms which you may not want to go with due to their lack of the size of their operation and their lack of experience in the gaming field, this is far from the case at Bet365 Poker.
They are one of the largest online gaming companies in the world, and far larger than just about any other poker room. This is because, although their poker room is substantial, it's only a small part of their operations. Bet365 is in fact now number 16 on the list of the UK's 100 largest privately held companies, with annual sales of £1.8 billion. So they obviously really know what they are doing and you know that your money is completely safe
Bet365 Poker Is On The World's Largest Poker Network
When you play poker at Bet365, you're not just playing against other players at Bet365 Poker. They are a member of the iPoker Network, the largest and most popular network of poker rooms on the internet. So instead of playing against players from just one room, there are a total of 32 poker rooms on the network who share players and tables between them. This of course allows for a lot more traffic and action. The combined force of all of these poker sites together rivals all but the busiest of poker rooms on the internet.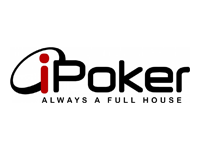 While the network doesn't have the sheer amount of players that the two largest poker rooms do, the iPoker Network has grown to become the third most popular place to play poker online, behind only Poker Stars and Full Tilt. Now that these two other sites have stopped taking Americans, iPoker may even end up becoming number one at some point in the future. Regardless, there is a huge amount of players that play poker here, and more than what is sufficient to meet everyone's needs and then some.
With this said though, many players are confused when it comes to the importance of heavy traffic. They think that we need to see poker rooms as being competitive, where we must then be forced to choose between one or another poker room. This is totally wrong though and leads to players not even attempting to put themselves in the most profitable situations. The real choice needs to be between competing tables, regardless of where the tables are located. So if you're looking to play 4 tables, the 4 best may be at 4 different poker sites in fact, and if you don't have an account at all of them, you will miss out.
So if there's a poker site with very few players but a good table runs even once in awhile, you will need the ability to take advantage of it. Now I will say that in order to do this properly you'll need to have enough money to maintain bankrolls at these different poker rooms, so it isn't something that beginners will be able to aspire to yet. However, there are countless players who have plenty of cash but seem to be married to a single poker site or two, which ends up hurting them.
All in all, while traffic levels do matter, it's only because it's simply better to have more fishy tables in one spot, although with table finder software that's out now, even that doesn't matter that much. So it really then only comes down to be able to bankroll the different accounts at the different poker sites that you need to in order to set yourself up for success. Having said all this though, if you only have enough money for one account right now, Bet365 is an outstanding place to start out at or to try.
This Network Is Also Among The Fishiest Around As Well
As I've been saying, it's not enough for a poker room to have a lot of traffic and even that doesn't matter that much. What we really want to be on the lookout for is the quality of the traffic that a poker site offers. This directly affects how well you will do. Your present skill level is a constant, and what varies in the end is the average skill level of your opponents. So regardless of how good you are, or how inexperienced you are, the easier your competition, the better you will do. This can mean increased profits, or decreased losses while you're still looking to master the game.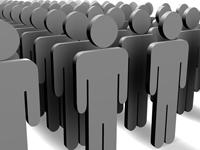 I've played on this poker network for years and my only real concern is playing against the weakest players I can find at the stakes I play, and overall, iPoker and Bet365 Poker score extremely well in this category. What I really like is the fact that there are a lot of non poker players whose main game is something else other than poker, usually sports betting. I'm a sports better myself as well but also a poker expert, but these players know little about what they are doing and their main strategy seems to be to just take a shot with hands and gamble it up.
Since I play the higher stakes it's not that easy to find players this weak playing for more serious money, but at this poker site you do find this. At the mid and especially the lower stakes, the games are even softer, with all sorts of neophytes like this looking to play garbage and play it too far. If you're tired of playing against a table of tightwads where if you make a hand they usually won't pay you off, then this is the place for you.
The Bet365 Poker tournaments are especially fishy and while I don't play a lot of them lately, I've tried them out and have done extremely well at them. I've also had a lot of my students over the years give me the same feedback. We're not just talking easier here, we're talking much easier. I have little doubt that the tournaments here are by far the easiest to make money at anywhere.
Bet365 Poker Is A Perfect Place For Beginning Poker Players
Playing real money poker for the first time can be a pretty daunting experience. Players may not think so when they start out, but even the bad players will beat you out of your money if you don't know what you're doing yet. This is especially true for players who come from play money tables and expect to have their success carry over to real money. What does well at play money will get you killed in real money, as you might have been the tightest player at the play money tables, but now you're by far the loosest and the biggest fish.
Now I don't want to scare you if you're in this boat right now, as it doesn't really take that long to adjust to the much tighter play you see at real money. However, what would you rather do, start out against experienced players, or against new players like yourself? Well Bet365 Poker actually gives you this choice, as they have lots of new player tables which are limited to those who have recently joined them.
There's no cheating here by the way as the software checks to see when you joined and won't let you play at the beginners tables if you're not new. They do give you a full 90 days to play at them which is way more than enough time for you to make the transition if you're actually new. If you're an experienced player who is just new to Bet365 Poker, well these players give a whole new meaning to the word fish, and you're going to love the extra money you'll make at them.
Excellent Game Selection Including Other Forms Of Online Gaming
If you're like me and enjoy other forms of gambling, then you're going to love Bet365. As I mentioned, they are one of the largest and highest rated sports betting operations in the world. Sports betting is game of skill like poker and if you've never tried it, you can get involved with real small bets if you want to try your hand at it. I don't bet on casino games or play bingo for money but a lot of people like this stuff, they aren't games of skill though but can be pretty entertaining I guess.
Bet365 also has online games which are definitely skill based and that's probably the most interesting part of being a member there. There's a wide selection of interesting games that you can play. A lot of people play these kind of games for free online, even paying money to do it, but they are a lot more fun when you can win money at them as well.
The best part of all of this is that you can play everything that Bet365 has to offer from a single account, in other words, your poker account if you're primarily a poker player and I assume you are. They even give you separate bonuses for trying out these other forms of gambling, so it's the best of both worlds really.
Bet365 Poker Really Rolls Out The Big Bonus Cash For You
Speaking of bonuses, the welcome bonus at Bet365 is among the most generous out there period. Instead of the usual 100% match, they give you a 200% match, which means twice as much bonus money as just about every other poker room offers you. So for instance if you have $100 to deposit, instead of just getting an extra $100, which is pretty nice in itself I might add, you get $200 in free bonus money.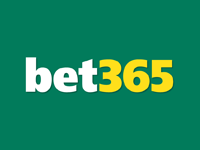 To make this even sweeter, for those who have larger amounts to deposit, they don't just cap it at $600 like is the custom, but will give you up to a total of up to $1000 in bonus cash. I've seen some poker sites offer more but it's more of a sham than anything else, and unless you play big and play a ton you actually end up getting less and sometimes far less out of some of these deals.
At Bet365 on the other hand, they free up your bonus quickly and in small increments, and in fact every time you earn $10 of it, they give it to you. It's not just how much bonus money you can get, it's also how easily you can get it, and Bet365 once again offers you the best of both worlds, giving you a very generous amount and making it easy and realistic to get. If you are going for one of their smaller amounts, they even will release it in $5 increments for you to make it even easier for you.
While there really isn't a need to choose between bonus deals, there are some poker sites not worth trying out at all. We have several other good poker rooms definitely worth trying out though that I've also provided reviews for, and you should also look to cash in on those deals as well, as any time a great poker room wants to pay you for trying them out you'd be stupid not to. However, the bonus deal at Bet365 Poker may even be the best out there and is in particular one you don't want to miss out on. If you haven't taken advantage of any of my other bonus deals that I've lined up for you, this would certainly be a great one to start with.
Our Special Bet365 Poker Referrer Code
After making sure that you visit Bet365 for the first time through our special link that we have for you, you'll need to enter in our bonus code, which is "PBC1000". The PBC stands for our site, Poker Bonus Code, and the 1000 is the amount of bonus you're eligible for. I've seen other places only offer you 100% or even 150%, so if you want to get the full 200%, and you'd be foolish not to, don't forget our bonus code, and it's a good idea to write it down in fact.
Bet365 Poker Will Also Work Hard To Keep Your Business As Well
I've sent a lot of players to Bet365 who end up having it as their main poker account, and while the fact that it is simply a great place to play online poker certainly has a lot to do with this, Bet365 throws some big reload bonuses at their players as well to keep them playing there. For instance right now they have a whopping $10,000 reload bonus deal going on, where you can get up to an extra 10 grand in free money just for playing there.
Of course you'll need to deposit more money with them but anytime you get bonus money for doing so it's always a good idea to take advantage of, and when there is this much extra loot involved, you want to deposit all you can to get the most out of it. This is just one more great reason to get involved with them and give them a try.
This just isn't a one time thing either, as they regularly offer incentives for their players to redeposit. You don't have to keep the money in there by the way, as you can take out the excess once you've freed up the bonus that these extra deposits have earned you. Plus, as I've said, they also offer separate bonuses to try out their other games as well, should you wish to do so.
Plenty Of Generous Rewards Just For Playing There
Bet365 Poker offers a very nice VIP program which is both simple and rewarding. Frequent player programs have become a staple of online poker sites now, and just about every poker room offers them, but Bet365's program is better than most. They offer four different VIP levels, which are bronze, silver, gold, and platinum. As you climb the levels, you become eligible for more points per hand or tournament, in addition to having access to better and better rewards.
There's no beating cash rewards though and probably the nicest thing about Bet365's system is that you can just take the cash, right into your account. If you like to play tournaments, you can also redeem your points for tournament entries as well. These are tournaments that you'd normally have to pay cash to enter of course, so this way you can end up parlaying the free money you earned just for playing into even bigger sums of money.
They also make it easy to check on the amount of Merit Points you have in your account, and with a single click, you can convert them to cash in your account. Your account will also be automatically assessed each month to see if you qualify to climb up the ladder to a higher VIP category. All in all, they make it extremely simple and all you have to do is sit back and just play poker and get rewarded nicely for it.
Bet365 Poker's Promotions
In addition to the $10,000 reload bonus that I've already mentioned, Bet365 has a number of promotions that they run at any given time. There isn't as many promotions here as some other poker sites, but that's really not a big deal at all as you have to look at everything a poker site has to offer, and when you do that at Bet365, the reasons to play there add up to an irresistible deal really. You can win seats to the WSOP here, and in fact, in my opinion this is by far the easiest route to the big tournament around. This is due to how bad the tournament players are there. This is where I go to win a seat to the thing, and I've had several of my students over the years win seats as well without all that much trouble. This might be the best kept secret in online poker actually.
Bet365 Poker's Software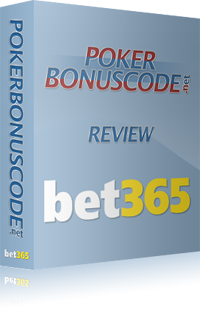 The software at Bet365 Poker is provided by Playtech, one of the world's leading poker software companies. It certainly isn't as flashy as the software of some of its competitors, but it's pretty decent looking, and that's really not the important thing anyway. For those who are looking to spice up the look of the tables, iBolide does provide some mods that you can buy for a reasonable price, not that you even need to do that.
What really counts where a poker site's software is concerned is the efficiency of how it works, not what it looks like. Bet365's software scores very well in this regard. For starters, they have a table filter function that's one of the best out there. It's very important to be able to find the tables you want quickly, and they not only do that for you, it also permanently remembers your preferences, which remain until you change them. No more logging in and having to set these each time, which can be pretty annoying and time consuming.
The functionality in terms of game play is also very good, with easy to use buttons and a good quality bet slider for no limit action. It's also rock solid in terms of reliability. I've made a few suggestions to them over the years in terms of some improvements they could make and I've found them very eager to please. The best thing you can say about a poker software platform is that it's easy to use and doesn't cause you any problems and the software here definitely qualifies.
Lots Of Great Deposit And Cash Out Options At Bet365
The only real issues that anyone has had with depositing and cashing out has been confined to people from the USA where there's a war going on between the government and poker sites. This has even spilled over to now include inconveniencing players from other countries such as ourselves at some poker sites. Bet365 Poker stopped accepting Americans a few years ago when this first became an issue, so you can rest assured that your funds will never be frozen by the U.S. authorities like at some poker sites.
Bet365 Poker offers a very good selection of the usual options. You can deposit with credit cards, debit cards, cheques, bank wires, Neteller, Fastbank, Moneybookers, PaySafe Card, Entropay, Paypal, Ukash, and TTMoney, Instedebit, and Click2Pay. As far as cashing out, you can use credit or debit cards, receive your money by cheque or bank wire, or cash it in using an internet wallet such as Neteller, Fastbook, Moneybookers, TT Money, Instadebit, Click2pay, or Paypal.
What I really like is that on their website you can select which country you live in and they will list off all the available options for both deposits and withdrawals for you. With a lot of poker sites it's difficult to tell what they actually take for deposit methods and the countries you can use them in aren't spelled out. With withdrawals, some poker sites don't even tell you what you can use anywhere on their site, and presumably you only find out when the time comes. This is poor service but you won't find anything but great service at Bet365 Poker.
Very Good Customer Support And Security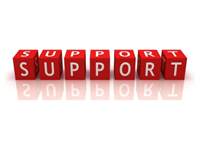 Bet365 is very experienced in taking care of its customers and the poker end of their operation is no exception. The thing I really look for in a poker site's customer service is live chat, and a lot of poker sites don't have it. This can lead to having to email back and forth for days to get an issue resolved or a question answered properly. I'd much rather have it dealt with on the spot and I don't want to have to talk on the phone to do it either. So I'm pretty fussy but they do have an excellent live chat customer support service available to you 24 hours a day in case you need them, which is the right way to do it.
My Recommendation
If you've been reading through this review it's pretty obvious that I like this poker site. In case you were wondering, there are a lot of poker sites I don't like, but you won't see them in any of my reviews. I only pick the best to review for you and Bet365 is certainly among the best places to play among the literally hundreds of options out there. The bonus deal alone is more than enough reason to try out this nice poker room, and I'm sure that after you've done so you will end up really liking the nice soft action there, the loads of traffic, and the excellent service and rewards that you get. Don't forget to go through our link and use our Bet365 Poker referrer code "PBC1000" to get your 200% bonus.
Bet365 Poker Referrer Code 2023
Bet365 Doesn't Mess Around With Normal Size Bonuses In 2023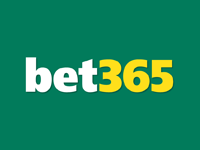 If you're looking for just a normal 100% match up to $600 or so that most other poker rooms offer, you won't find anything like this at Bet365 Poker.  100% isn't enough for them, so they decided to make it 200% instead.  $600 isn't enough to give you, so they made it $1000 instead.  So if you deposit $500 with them, using Bet365 Poker referrer code "PBC1000", you get twice as much bonus money than you'd get with the standard bonus offers, meaning a full thousand bucks of free cash.
Now, this isn't to say that you shouldn't consider these other bonus offers at these other poker sites, especially the ones that we've lined up for you.  Several hundred dollars worth of free poker money isn't anything to sneeze at, and if you're not currently working on bonus money, the choice then becomes to get some or not bother.  So my parents didn't raise any fools, and I'm sure yours didn't either.  If someone is willing to pay me good money to try out their site, and where I'm playing now isn't giving me any free money right now, well you know what I'll be doing.
However, with that said, although there are probably several good poker rooms who are willing to pay you hundreds of dollars right now to try them out, getting paid more money is just simply better, and getting paid twice as much is of course twice as good.  Now you might not have the $500 to deposit to be eligible for the full $1000 in bonus money, but that's fine.  However much you have, you will end up with double that in bonus money, and that's how confident that Bet365 Poker is that you'll like their site and want to play there after they've paid you very well to try their poker room out.  However, that will be totally up to you at that point.

If You Thought That Bonus Was Big….
Once you're a member of Bet365 Poker, they really bring out the big bucks to look to keep you as a player.  If you thought $1000 was a large amount for a poker bonus, and it actually is, how do you feel about getting up to $10,000 in free poker money with their reload bonus?  You don't even need a referrer code to qualify for this, as all current members are eligible for this incredible deal.
This deal is currently running at the time of my writing this Bet365 Poker bonus review, and all of these deals are of a limited time, so if you end up missing out on this one, well they frequently have reload bonuses at Bet365 Poker, so you probably won't have to wait long for another one.  This does show though how hungry Bet365 is for your business and how much money they are prepared to throw at you to get it and to keep it.  Meanwhile, you can save your money and also get ready to move all of your poker money over to them to get the most out of all of this.
However, you first need to sign up with them and get their initial welcome bonus from them, the 200% up to an extra $1000 that I mentioned at the beginning of this bonus review.  Like all bonus deals though, it's subject to change and we can't guarantee that they will have something this big for you forever.  So even if you're not ready to deposit yet, you should go through our link and use our Bet365 Poker referrer code to lock in the deal.
Our Special Bet365 Poker Referrer Code 2023
In order to take advantage of this fantastic deal, you need to both go through our link to Bet365 poker and enter in our special 2023 Bet365 referrer code, which is "PBC1000".  Just remember the initials of our site, PokerBonusCode.net or PBC, and the 1000 part is the total amount in bonus money you are eligible to receive.  Better yet, jot this bonus code down so that you can enter it correctly in a few minutes when you visit their site.
There's no need to wait to do it actually, whether you're ready to deposit today or not, as this way you will lock in this deal for yourself simply by registering, and everything will be in place for you to take advantage of it whenever you're ready.  As I've said though that these bonus deals do change over time, and they really don't get any better than this one, so I'd hate to see you miss out on this deal in particular, as I'm sure you would as well.
Bet365 Poker Is Also Generous In How They Release Your Bonus
With a lot of poker bonus deals, the bigger the bonus that you are shooting for, the more difficult it is to get pieces of it.  The problem that arises here for players is that whenever poker sites release their bonus in percentages of the overall bonus money eligible, the bigger the total bonus, the bigger the size of the chunks that they release at one time.  For instance, if your total bonus money is $600 and they release it in quarters, that means you have to play $150 worth of poker to start seeing any money.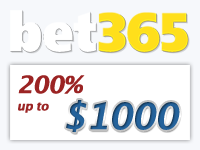 So some players might not even make it this far, and end up collecting no bonus money at all.  The smaller the increment, the more likely you'll get to collect it.  Now most players do end up collecting it all, but even so, it only makes sense that the quicker you get the money in your account the better.  So in other words what you want is this all divided up into small bite sized segments so you can feed so to speak sooner and more often.
Bet365 Poker's setup here is excellent.  They don't use a percentage at all, and with all total bonus amounts, no matter how large, they release it in $10 increments.  So you don't have to worry about going after big bonus money and having to wait a long time in between paydays.  This extra money also helps you reduce your risk of busting out, so you'll be feeling more comfortable as well with this much better scheme of paying out the bonus money than most other poker site deals.  Also, with more money to play with, you can also move up easier and more quickly if you want to.
This Definitely Isn't A Deal You Want To Miss Out On
There's no question that the bonus offer at Bet365 Poker is among the very best out there period.  When you add up the fact that they offer 200% of your initial deposit instead of just 100%, they give you up to $1000 in bonus money instead of about half of that at most other places, and they release your bonus money a lot quicker than most poker sites do, their deal is all around about twice as good as you normally see elsewhere.  So there's really nothing to think about here when you get paid this much just to try out a poker room.  Don't forget to enter our referrer code "PBC1000" when you register so you will lock in this deal.
Bet365 Poker Tournaments
The Tournaments At Bet365 Are Absolutely Fabulous
All poker sites feature an array of tournaments, and to be honest some sites have more variety and action than others. So when I do these tournament reviews I try to give you as much information as I can about what they run at the given poker site that I'm reviewing. However all of these details pale in comparison to the ease or lack of ease of doing well at tournaments at a particular poker site. What matters to me most and what should matter to you as well is how fishy the tournaments are.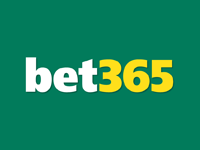 Let me tell you a story about back when I first started coaching poker. My first 2 students were losing players at a particular poker site, and the first thing I had them do is switch to an easier poker room to win at. So that alone turned them from losing to winning poker players, and I also gave them a few lessons. So after just a few hours of instruction, one of them wanted to play some tournaments, so I sent him to a room on the iPoker Network. These were known as the easiest ones around.
So he plays in his first tournament, a small buy-in with a pretty large field, with the winner getting a seat at the main event at the WSOP. Well he ends up winning it and winning the seat, and he's pretty excited obviously. So my second student decides to give that a try as well. Same tournament, same format. He wins it as well. So after seeing this, I can't let these guys show me up, so I play one, and I win it as well. So three for three with me and my crew, pretty crazy stuff. In the years following I haven't seen anything quite this amazing but I also haven't seen anything to lead me to believe that this network isn't the easiest place in the world to do well at poker tournaments.
Now given that Bet365 is on this network, and given that from among the choices there, this is such a solid choice and especially with their considerably larger than average welcome bonus of 200% up to an extra $1000, if you like tournaments then this is really the place for you. The tournament players there might be the worst around period, and in fact, from my own experiences as well as those of my students over the years, I'm pretty convinced that this is the best tournament site on earth.
Not only are the players there stupid, there's so many of them. The re-buy tournaments are especially nice, and a large percentage of the players don't re-buy or add on, which gives you a nice overlay right there, and not doing so is a true beginners mistake of course. There's also plenty of fools who are shoving every hand and re-buying as many times as they need to, which you can feast on as well. This really is like a tournament player's paradise.
The current time in Londen (UK) is: 06-12-2023 08:26
6 December 2023 - Upcoming Tournaments at Bet365 Poker
Game Type
Start
Buy-in
Players
Date/Time (London)
ESW 02-H|€250K Mystery Main|D1
Texas Holdem
$91,00 + $18,00
3
06-12-23 13:30
€100 GTD Turbo Rebuy
Texas Holdem
$0,45 + $0,05
26
06-12-23 13:30
€2,500 GTD | Bounty XL
Texas Holdem
$11,37 + $2,25
21
06-12-23 13:30
€400 GTD Turbo Bounty Hunter
Texas Holdem
$2,28 + $0,45
34
06-12-23 13:30
ESW 98|€100K Grand Stack|D1
Texas Holdem
$4,55 + $0,90
3
06-12-23 13:30
WSOP Opportunities Abound At Bet365 Poker
There's absolutely nothing like playing in the main event at the World Series of Poker. If you've ever dreamed of playing in it, no poker site gives you a better chance to do it than at Bet365 Poker. It doesn't even matter if you don't have much money to spend on this, as they have qualifying tournaments with buy-ins starting at 11 cents. So there are qualifiers to suit everyone's budget and many of them in fact. So if you don't do so well in one of them you can just try again. They will be sending several of their players to the WSOP, and who knows, maybe you could be one of them.
They also feature the WSOP Last Man Standing event where you can buy in at whatever level you want, from $5.40 on up, and the last person not to be eliminated wins the prize package valued at $13,000. When you win you receive a token for the next level up, and if you lose, well you're not out of it by any means, as you can just try again. All the matches are heads up so if that's your game, then this is an excellent opportunity to get to the big tournament as the heads up players here aren't particularly good at all.
$50,000 Jackpot Sit N' Go's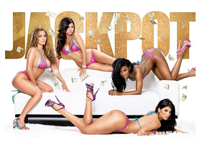 Sit N' Go's are certainly one of the most fun and profitable ways to play poker, and Bet365 Poker makes them even more exciting with their Jackpot Sit N' Go format. If you win a certain number of them in a row, you can win the $50,000 jackpot. The coolest thing is that you can do this at any buy-in, starting with the $2 ones, so everyone who enjoys sit n' go's has a shot at this huge money. This definitely adds some extra excitement to an already exciting poker tournament format.
Lots Of Big Money Tournaments At Bet365 Poker
Every Sunday, Bet365 Poker holds their weekly $200,000 guaranteed mega tournament. You can buy in directly for $200 + $15 or win a seat in one of their many qualifying tournaments. As is the case with all their big tournaments, the qualifiers are priced to fit every bankroll, so regardless of how little money you're looking to spend on these, you can still easily give yourself a shot at the big tournaments and stay within your comfort zone.
In addition to the big weekly tournament, they also run several other bigger ones, with 5 other weekly events all guaranteed to award at least $25,000 in prize money. Many of them offer re-buys and add-ons so this has the prize money generally a fair bit higher than the guaranteed amount. Once again, the best thing about the tournaments here, all the tournaments actually, is that the competition is softer than you usually see even at the looser tournament poker sites, so regardless of how good you are, your chances of winning increase.
Plenty Of Traffic Means Plenty Of Regular Tournaments As Well
Due to the high traffic at Bet365 Poker, there's always a ton of tournaments running, whether you prefer the various formats of single table tournaments, or the exciting action of multi table events. As good as the cash games are here, the tournaments are even better. This is in fact my favorite place to play tournaments, and I know that it will be yours as well once you get a chance to try out this great poker site. Don't forget to go through our link and enter in our bonus code "PBC1000" to get their awesome 200% match up to an extra $1000 in bonus money!