Carbon Poker Review
Carbon Poker
Website:
carbonpoker.ag
Carbon Poker Bonus:
200% up to $5000
Carbon Poker Bonus Code:
CARBONPK

Rating

8

/

10

Reviewed by

PokerBonusCode.net
A Very Good Poker Site On A Very Good Poker Network
Since 2006 Carbon Poker has been offering players from all around the world some of the finest online poker to be found anywhere. They are the leading poker room on the Merge Gaming Network, which has always been one of the premiere networks online and has grown significantly in popularity as of late.
Carbon Poker has always been a top choice among the many poker rooms that reside on the Merge Poker Network. As is the case with other poker networks, Merge consists of a number of smaller sites, and a few larger ones. There are in fact a total of over 60 poker rooms which share traffic on the Merge Network, with most of them consisting of smaller poker rooms who aren't big enough to survive alone.
Poker Networks Are Really The Best Of Both Worlds
Of these smaller poker rooms, many are offshoots of some pretty large sports betting sites, who offer poker to their sports bettors as an additional way to promote action with them. Although only a small percentage of these sports bettors actually come over to the poker side of things, in some cases the sports book has millions of players, and whenever you can get someone whose main game is something other than poker to come over to the poker room, that's always a good thing.
In addition, there are also quite a few smaller, off the beaten track poker rooms that are on Merge, ones that you may not have even heard of. The benefit to us of having them aboard is that they tend to attract a much more casual and thereby much less skilled caliber of player than a more famous poker site like Carbon Poker would attract on its own.
Carbon Poker Gives You A Top Notch Poker Experience That Is Fishy As Well
So this has the effect of making Carbon Poker considerably more busy and considerably more fishy than it would be otherwise if it weren't on such a quality network like Merge. At the same time, Carbon Poker, by virtue of it being an established and well respected poker site, has all the experience necessary to make sure that all of its players are well taken care of.
So when you add the two together, Carbon Poker really does offer its players the best of both worlds, where players benefit from their experience and expertise in running a poker room, and also get to play against all the schools of fish that come to the network from less esteemed poker sites.
Carbon Poker Stands By All Of Its Players, No Matter Where You Are From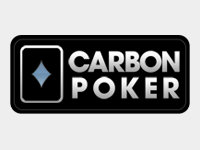 Back in 2006, when Carbon Poker first opened their doors, most poker sites became intimidated by the U.S. government's legislation which at the very least seemed to some people to outlaw online poker in the U.S. So while other poker rooms were running out of the building, Carbon Poker was running in, and in fact got their start during these relatively turbulent times.
However, Carbon Poker and some other poker rooms recognized that these new laws didn't really apply to them, as they were based upon a law that was specifically addressed to sports betting. A few years later, during the attack on several large poker rooms in 2011, known as Black Friday, the internet's four largest poker rooms serving Americans left the market as well.
Not Every Poker Room Would Be Pushed Around This Way Though
This left only a few poker rooms who continued to fearlessly stand up to U.S. authorities. Among those left standing, Carbon Poker and the Merge Poker Network were now the largest and most respected.
Not all poker rooms on the Merge Poker Network stuck by their American players though, but Carbon Poker remained firm in their support of all players. They felt that they had the law on their side and that the U.S. Department of Justice had been ignoring it, and in any case American laws didn't apply to them in the first place.
The main problem that still existed was the U.S. government seizing some of the U.S. bank accounts that poker rooms needed in order to allow Americans to move money in and out of their poker sites. So after Black Friday, Merge temporarily stopped taking new players from the U.S., although they still supported those Americans who were already with them.
This process took over two months but it allowed Merge and Carbon to revamp their payment processing methods to bring them more out of reach of the U.S. authorities. Carbon Poker also changed their website from .com to .ag to keep that out of reach as well.
The U.S. Department Of Justice Finally Sees The Light
Since the day that online poker first became popular, the U.S. government had always maintained that it was illegal by way of the Wire Act. However, this law clearly only pertains to sports betting, and all the way back in 2002, the U.S. Federal Court of Appeals ruled this to be the case.
The government chose to ignore this ruling, even though the courts have the last say here, and in fact the UIGEA which scared so many poker rooms away didn't make online poker illegal in itself, it only addressed online poker that already was illegal. So if the Wire Act didn't apply to poker, then the whole thing would fall like a house of cards.
So after all these years, in late 2011, the U.S. Department of Justice finally admitted that the Wire Act did indeed only apply to sports betting. So this rather surprising development now takes poker off the hook. Those poker rooms that have stood firm in their righteousness, like Carbon Poker, ended up winning the bet and now stand to rake in the pot.
Carbon And Merge Were Already The Poker Room Of Choice Among Those Who Persevered
Since Carbon Poker and the Merge Network revamped their process and started taking Americans again, they have been the clear choice among Americans who were thrown out of other poker sites and rendered homeless in the poker world. This exodus brought the traffic at Merge to unprecedented levels, and they how have become a major player in the game.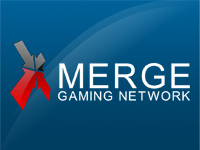 The only real challenger to Merge in this new landscape have been Bodog, however since they recently backed down and no longer accept Americans, at least for a while anyway, this is expected to bring even more players over to Merge.
When you add in the recent legal developments, which have Americans much more comfortable in general to get back into online poker, the future for Carbon Poker and the Merge Poker Network has become even brighter.
This All Matters To All Players, Not Just Americans
The opening back up of the U.S. online poker market is obviously a big turn of the tide for American players, but all players from all countries will benefit from the increased traffic that this has brought and will continue to bring.
Many players in fact, from all countries, have stayed away from poker sites like Carbon Poker due to their belief that there wasn't a high enough of a traffic level for them. This belief has been for the most part a mistaken one, as a lot of players don't realize that they don't have to just play at one site.
In fact, the players who have done the best over the years, including myself, have made a point of always having access to the juiciest games online at any given time, which involves maintaining quite a few accounts at different poker rooms, many of which may not have that much traffic at all. However, when a good table pops up at these you want to have the means to sit in on it.
Carbon And Merge's Traffic Has Risen Lately To Have Them Really Standing Out
Carbon Poker and the Merge Poker Network have recently climbed in traffic ranking to now become one of the busiest poker sites around. There is now more than enough traffic to make this worthy of being a stand alone site for most players. If you play the higher stakes or like to play a mind boggling amount of tables at the same time, then you will want to have access to several sites anyway, and Carbon is definitely one having in your repertoire of poker rooms.
If you are from the U.S. though, you definitely need to be playing at the poker site with the heaviest traffic, regardless of your preferred stake or how many tables you like to play. You may not be able to play 36 tables at the same time or whatever at Carbon Poker, but you aren't going to be able to do that right now anyway, and to be honest that's way too many tables to be playing at the same time.
What we can say for sure is that Carbon Poker is now a premiere poker site online and an option that all poker players should have access to, due to their very nice combination of lots of traffic and plenty of fish. The recent developments have Carbon being a very good choice regardless of where you live, and an essential choice for Americans.
If You've Never Had An Account At Carbon Poker, Now Is The Perfect Time
Carbon Poker offers all of its first time depositors a nice welcome bonus of 100% of your first deposit, up to a total of $600 in free money, just for trying them out. Through our connections though we're able to offer you an extra good bonus deal with them, which is 150% of your initial bonus, up to a total of $750 in bonus cash.
By using our exclusive bonus code, "PBC750", when you register with Carbon Poker, they will recognize you as a friend of ours and this will automatically entitle you to the larger and more generous bonus amount. So write this Carbon Poker bonus code down as you will need it in a few minutes when you register.
We've also arranged for Carbon Poker to release your bonus money in an extra friendly way. As is always the case with poker bonuses, the poker room releases your bonus as you play. The best ones do that in small chunks, and the Carbon deal pays you in $10 increments, every time you collect 750 VIP points. So the more you play, the quicker you get paid, and everyone has a full 90 days to collect it all.
The Bonuses At Carbon Poker Don't Stop There Though
Once you have cashed in on all of your welcome bonus money that Carbon Poker will be giving you, you will still be collecting VIP points with every raked hand and every tournament fee that you pay. All players at Carbon Poker become eligible to be enrolled in their VIP program, where the more you play, the more you earn. You only are required to earn 250 VIP points a month to become a VIP, which is hardly any play at all.
For starters, you can use the VIP points that you earn to trade them in for cash, or for free tournament entries, and both choices are a great deal. They also host special VIP freerolls, as an extra reward to their players for their loyalty. These aren't just any freerolls, as the prize money is a lot higher and the amount of players in them is a lot lower, meaning that they have significant value and your chances of making some real good loot at them are much higher.
The VIP Statuses At Carbon Poker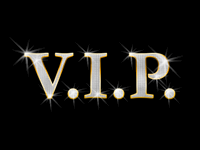 There are several levels of VIP status at Carbon Poker. VIPs start at the Earth level, and as they play more and more, they become eligible to climb the statuses, to the Wind, Fire, Water, and Ether levels. Each level has a certain amount of VIP points needed per month to be promoted to them, but as you move up in the stakes, as I'm sure you are planning on doing, you earn more and more VIP points per hand.
So as you go along at Carbon Poker, the whole thing tends to snowball, meaning that you play higher, which earns you more VIP points per hand, which gets you to a higher VIP level, which pays you even more VIP points per hand, and so on. Due to the softer competition at Carbon Poker, this dream is more likely to become a reality for you.
Carbon Poker Players Even Get Rakeback
The death of rakeback has been greatly exaggerated, at least that's the case if you play at Carbon. The big problem with rakeback has been that only a small percentage of players at a given poker site would get it, meaning those few players in the know who signed up through secret deals. So these players would get a percentage of the rake they pay paid back to them, while most players got absolutely nothing.
Lately, poker rooms have realized just how unfair this process is, and have done away with rakeback altogether. Carbon Poker has come up with a scheme where they give all of their VIP players rakeback now, with the percentage paid out depending on a player's VIP level.
Here's How Much Extra Money You Can Earn
So the rakeback they pay out to all players is 6% at the Earth level, 7.5% at the Wind level, 10% for Fire, 15% for Water VIP members, and a whopping 35% for those in the Ether category. So you start out getting paid some nice extra money to start, and as you climb up the VIP ladder, you get more and more.
So as you can see, Carbon Poker is firmly dedicated to taking care of all of its players, from the smallest to the largest, in a way that really does stand out from how most poker sites do it. Carbon is in fact well known for demonstrating that all of their players are valuable to them, just not the big time ones.
Carbon Poker Really Rolls Things Out For Tournament Players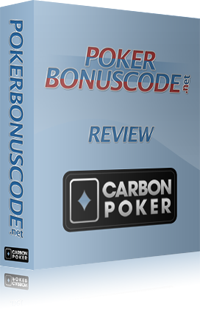 As exciting as the cash tables are at Carbon Poker, tournament players are in for a special treat. First of all, new depositors get free tickets to fourteen $500 daily freerolls, where the field is restricted to recent depositors only, so the chances of you winning some real money at these are significantly increased. There's also five $200 freerolls that run each day at Carbon Poker, which all players can enter.
On the other end of the scale, Carbon's big Sunday tournaments are probably the best value of any tournaments on the internet. This is because Carbon Poker regularly contributes a generous amount of money to the overall prize pool of their big guaranteed tournaments.
Carbon's Guaranteed Tournaments Often Have A Lot Of Added Value
At other poker sites, you almost always see the guaranteed amount hit, although many players hope in vain that the poker site will have to kick in a bunch of their own money. While this rarely happens elsewhere, it's a common occurrence at Carbon Poker, and in fact they often purposely set the guaranteed amounts higher than the expected amount. This is a big windfall for players, and if you know anything about how tournaments work, I'm sure that you share my excitement here.
In addition to that, Carbon Poker offers scheduled tournaments with guaranteed prize pools at all hours of the day or night. Entry fees are as little as 6 cents, and there are tons of Carbon Poker tournaments for a dollar or less, in addition to lots of tournaments running for those who have more to spend. So at Carbon Poker, they make sure that they do everything they can to make everyone happy.
Carbon Poker Also Runs An Array Of Promotions For Even More Value
Do you feel that you have what it takes to become the Tourney King at Carbon Poker? All scheduled tournament players automatically become entered into this leaderboard contest where you can not only go for the glory, you can also win your share of the $20,000 in prize money that they are giving away. There are separate classes for both high and low buy in players, to ensure the maximum amount of fairness.
While the Tourney King promotion is limited to those who play scheduled tournaments, players who prefer sit and go tournaments have their own leaderboard contest, as Carbon Poker doesn't ever want anyone to ever feel left out. There's also their bad beat promotion, their quad pyramid price, where if you get quad 5's on the flop you get paid, their snakes and ladders sit and go promotion, where you move up and down and look to win some nice extra money, and more.
Carbon Poker also offers its players the opportunity to win prize packages to the World Series Of Poker, the World Poker Tour, and other prestige live events. Your chances of winning one of these valuable prizes are as high as 1 chance in 30 per event, with plenty of opportunities offered to players of all sizes of bankroll and budget through their many satellite tournaments.
Depositing And Withdrawing At Carbon Poker Is Easy
Regardless of what country you are from, Carbon Poker offers several easy options that you can use to deposit with them. For players from the United States, the internet wallet Click2Pay is the most popular choice, however you already need to have an account with them. They also accept Visa and Mastercard, and if your bank won't allow you to use it for online poker, they even have an easy workaround for you and provide you with all the details you need.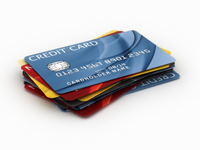 For players from other countries, all you have to do is select your country from the drop down list on the banking page and all of the options are conveniently displayed for you right on the web page. They also provide to you all of the details that you will need to set up an account at any of the options that you aren't familiar enough with.
When it comes time to make a withdrawal, Carbon Poker also offers several popular options, to ensure that all players can have access to their money in a timely fashion. This is an issue with some poker sites, especially when it comes to withdrawals with American players, but rest assured that Carbon Poker is a leader in providing these solutions and you will be well taken care of here in a manner that is superior to how most other poker sites do it.
So As You Can See, Carbon Poker Is A Great Option For Everyone
Players often make the mistake of paining over decisions to try out a poker site, and when you stop to think of this for a minute, that's just pure nonsense. You aren't looking to get married here, you're just looking for a date, and when you get to go out on a date with someone extremely attractive and get paid well for it, well there really isn't anything to think about, is there?
I've always liked Carbon Poker myself and strongly feel that you will to, but at the same time you should be the ultimate judge of how much you personally will like it. If you're from the U.S., well you really don't have many options right now and Carbon Poker is perhaps the very best out there.
If you're from another country, and you haven't tried out Carbon yet, it's only to your benefit to collect the generous amount of money that they are looking to pay you, and see for yourself what you may be missing.
So in every case, you owe it to yourself to check out Carbon Poker if you haven't done so already. Don't forget to enter in our special bonus code, "PBC750", after you click on our link to them to register and lock in your free money.
Carbon Poker Bonus Code 2018
Get Even More Bonus Money With Our Exclusive Carbon Poker Bonus Code 2018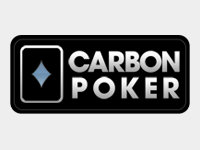 All new depositors at Carbon Poker are eligible for the bonus deal that they advertise on their site, which is a 100% match of your deposit, up to a maximum of $600 in bonus money.
However, we've arranged for a special deal for you. By using our special Carbon Poker bonus code, "PBC750", this will entitle you to their matching not just 100% of your deposit in bonus money, but a full 150% of it. So if you deposit $100 for instance, you'll get $150 in bonus money with our deal instead of just $100.
The Maximum Is Also Higher With Our Carbon Bonus Code
Instead of only being able to get a total of $600 with the standard bonus, our bonus code gets you a maximum of $750. So if you deposit $500, you get $750 in bonus money with us, instead of just $500. So when you put this all together, why would you want a lower amount when you can get more bonus money with our bonus code?
This deal is only available at this site, and in fact, the PBC in the "PBC750" stands for the name of our site, PokerBonusCode.net. So you came here looking for the best bonus code out there for Carbon Poker, and you have now found it.
In 2018 You Will Automatically Get The Higher Bonus Amount As Long As You Enter Our Bonus Code
After you visit Carbon Poker in a few moments to take advantage of this great deal, don't let the fact that they advertise the lower bonus amount on their site fool you. That deal is for the regular people. By using our bonus code "PBC750" when you register, they will recognize you as a friend of ours and you will then get that better deal that our friends all get.
So write down our special Carbon Poker bonus code 2018 right now, "PBC750", so you will have it ready when you sign up. This deal won't last forever, and to be honest, we're not sure how much longer they will be allowing our friends to get this extra money, so if you wait, you may very well miss out.

The More You Deposit, The More Bonus Money You Get
If you are looking to get as much bonus money as you can, and I know that you are, then it definitely pays not to hold back when it comes to how much you are going to start out with the bonus deal we have arranged for you at Carbon Poker.
However, at the same time you don't want to wait and risk losing out on this deal. So I'd advise you to just go with what you can put in right now, while at the same time not being afraid to put in more now if you can. I'm only telling you this because I don't want to see you not put in as much as you could, and then regret it later when you end up collecting less free money.
How Much Do You Need To Deposit To Be Eligible For This Bonus Deal?
We realize that a lot of players don't have a lot to start out with, and we feel that everyone should have an opportunity to play online poker and collect some free money for trying out poker sites.
So we've arranged for the minimum deposit for this deal to be just $10. So as long as you have that much kicking around, which I'm sure everyone does, then you can take advantage of this, and in this case you will be eligible to receive $15 in bonus money.
This makes sure everyone who at least has access to a deposit method is able to get paid, and if you currently don't have the means to deposit, it's pretty easy to get this set up. This is another reason to make sure you remember to write down our bonus code for Carbon Poker, as well as bookmark this page so you can come back and sign up as soon as you are able, if you do indeed need to wait.
What Deposit Methods Can You Use At Carbon Poker?
Carbon Poker accepts a variety of different payment methods. First of all, they take Visa and Mastercard credit cards. Depending on your bank, you may or may not be able to use your credit card, but if you have any trouble at all, Carbon provides you the information you need to set up an account with ewalletxpress. Once you are set up with them, you can just use your credit card through ewalletxpress and it will go through.
In addition, Carbon Poker also allows you to make deposits using several popular internet wallets. You can use Moneybookers, Click2Pay, Eco Card, Click and Buy, and Instadebit.
While all of these options require you to open an account with the internet wallet prior to being able to use them as a deposit option at Carbon, it generally only takes a few days and then you are all set up for good.
What Are The Conditions Of Your Receiving The Bonus Money?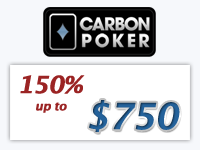 Once you make your initial deposit, you have 90 days to claim all of it. Like all bonus offers, you collect the money as you play at the poker site. Your bonus is paid out to you directly into your poker account at Carbon Poker, in $10 increments, until you eventually receive the entire amount.
Every time you play a raked hand or pay a tournament fee, you collect VIP points. Each time you collect 750 VIP points, you get paid $10 of your bonus money. While you are collecting your welcome bonus, no withdrawals are allowed, or you lose your eligibility to collect the remainder.
You Can Be On Your Way To Getting Paid In Just A Few Minutes
So it's all pretty easy as you can see, and once you've collected all of your bonus money, or the bonus period of 90 days elapses, you will still be collecting VIP points, and those points can then be redeemed for cash with Carbon's VIP program, which you will be automatically enrolled in.
So the bonuses really never end at Carbon Poker, although there is nothing more lucrative than the welcome bonus we have arranged for you. So just give them a try, earn some nice cash, and along the way, check out all the great things that Carbon Poker has to offer you.
So if you are ready, just click on our banner to Carbon Poker and lock in this deal for yourself right now using Carbon Poker bonus code "PBC750".
Carbon Poker Tournaments
Carbon Poker Offers Over $4 Million Of Guaranteed Tournaments Each Month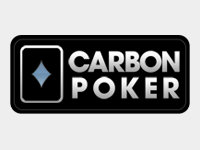 Starting with their biggest tournament, the $100K Guaranteed every Sunday, to their guaranteed tournaments with smaller buy-ins, Carbon Poker has lots of tournament action designed to perfectly suit every sized bankroll and budget.
Carbon currently advertises their $100K guaranteed tournament as the best value tournament online anywhere, due to their "massive" contribution to the prize pool. It's rare in fact to see a big tournament like this not get covered and have the poker room have to kick in any of their own money to the prize pool, let alone the big money that Carbon Poker regularly contributes to it.
Players Both Big And Small Can Get In On The Fun With These
When you add in the relatively modest $100 + $9 entry fee, half what a lot of other sites charge, Carbon Poker's big tournament is more accessible to its players. However, even the smallest players can aim for a seat to it, with satellites starting at only $2. Players can also use their Carbon VIP points to get a seat at it.
For those who prefer a smaller buy-in, Carbon Poker also offers a $12,500 guaranteed tournament as well every Sunday, with a much more modest $30 + $3 buy-in. Once again, Carbon Poker kicks in a significant amount of their own money to it, making it another great value, and one that many more players can afford.
I can't tell you how big a deal these big overlays from Carbon is with these two nice tournaments, and if you love bigger tournaments as I do, it's something that is way too tempting to even think of passing up on.
The current time in Londen (UK) is: 24-09-2023 03:34
24 September 2023 - Upcoming Tournaments at Carbon Poker

| Game Type | Start | Buy-in | Players | Date/Time (London) |
| --- | --- | --- | --- | --- |
Carbon Poker Also Offers Many More Guaranteed Tournaments Every Day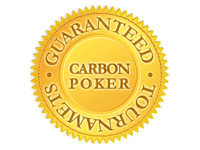 There are no less than 33 daily guaranteed tournaments at Carbon of $1000 or more, headlined by two separate $7500 tournaments, one with a $30 + $3 buy-in, and one you can enter for only $20 + $2, to make sure that more players can get involved in these. With the other tournaments, buy-ins start for as little as $3 + $0.30.
For those who prefer even smaller buy-in amounts, there are tons of smaller guaranteed tournaments, consisting of the Sixth Cent, where 6 cents gets you a seat, the Quarter Quickly, where you enter for a quarter, and the 1 Dollar Dazzlers. As you can see, absolutely no one is left out here.
Carbon's Guaranteed Tournaments Also Run Around The Clock
At Carbon Poker, regardless of what time of day or night that it is, you will always find their exciting guaranteed tournaments running. There is at least one $2000 guaranteed or higher tournament running every hour, in addition to many smaller buy in events.
This is particularly nice since Carbon Poker is popular around the world, meaning that there aren't just a few time zones that most players tend to reside in. So no matter where you live in the world, your needs are well accounted for when it comes to Carbon Poker's scheduling of their tournaments.
Want To Play For Free? Carbon Poker Has Plenty Of Those Too
Freerolls are very popular with newer players and those who only have a small amount of poker money, and in addition to having the chance to win some prize money and build your bankroll, they are also some great opportunities to gain some valuable poker experience without having to risk any money at all.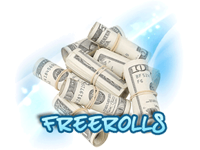 Unlike play money games, these tournaments might be for free but there's real money on the line, so the experience that you get is definitely the real thing. So instead of developing bad habits from playing against players who don't care, like you see with play money, the players you play against at real money freerolls definitely care about getting knocked out. So the experience is a completely realistic one, which is what new players need.
To start you off, Carbon Poker offers all of its first time depositors 14 free entries into their special daily $500 depositors freerolls, which have far less players than a regular freeroll does. They also offer a total of five $200 freerolls a day which any player can play in.
VIPs Get Special VIP Freerolls As Well, And Everyone Is A VIP At Carbon Poker
Once you've cleared your welcome bonus at Carbon Poker, you'll start to accumulate VIP points. In addition to exchanging them for cash, you can also redeem them for free entries to whatever tournaments you want, which if you like tournaments is an even better value than just getting the cash.
All players are given VIP Status at Carbon, and the more you play, the higher of a VIP status you can attain. In addition to the VIP rewards, Carbon Poker also gives their VIPs entry into lucrative VIP freerolls, ranging from $750 right up to $10,000. The fields for these are also pretty small, with one recent $2500 one only having 14 players, which means you have a high chance of winning some very nice money at these.
Sit And Go Tournaments Also Run All Day And Night
Another very popular tournament format is the sit and go structure, where there is no set start time and the tournament runs once all of the seats fill up. So if you don't want to have to wait until the next scheduled tournament starts, you don't have to.
Carbon Poker offers a nice variety of different sit and go tournaments, so whatever your preference here, you're bound to see plenty of selection. One of the great things about sit and go tournaments is that once you finish one, you just sit down at another one, so the wait between them tends to be very short.
There are a lot of players in fact who play sit and go tournaments exclusively, and this can be a great way to build your bankroll. Many of today's big stars in the poker scene started out with playing small sit and go's and worked their way up to riches and stardom this way.
If You've Ever Imagined Yourself At A Big Time Live Event, Carbon Can Get You There
Practically every online poker player has imagined themselves playing at events such as the World Series Of Poker or on the World Poker Tour. There's nothing that matches the excitement of just having a shot at the millions of dollars that are won at these tournaments. One big finish in one of these big tournaments can by itself catapult you to the big time, and many of today's top pros got their start this way.
Carbon Poker sends several players to these big events every year, and also have ways to qualify to suit everyone's budget. You can buy in to the final event directly, for $220 to $550 depending on the tournament, and 1 player in 30 wins the all inclusive prize package.
Or, if you don't have this much to spend, or perhaps nowhere near this much, Carbon Poker also offers players plenty of opportunities to qualify for these final events with their smaller buy-in qualifying tournaments, so even if you only have a few bucks to spend, you can still step up to the plate and take your shot at the big time.
Compete Against Others And See Who Really Is King
The tournaments at Carbon Poker are plenty exciting in themselves, but Carbon Poker always looks to add to this with an array of special promotions and rewards for their tournament players.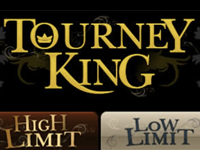 For instance, with their Tourney King contest, players compete against one another in a leaderboard format, and Carbon Poker throws in $20,000 worth of prizes to the top finishers. The competition is split into a high and low stakes leaderboard, to make things more fair for the lower limit players, and the top 50 in each category all receive prizes, from $60 to $3000 in the high category, and from $11 to $1500 for the lower stake players.
While the Tourney King is limited to results from regularly scheduled tournaments, sit and go players have their own leaderboard promotion, where you can win between $25 and $2000. In addition to the money, leaderboard promotions are serious fun in themselves, as you see how you stack up against others over time and have fun watching yourself climb the rankings.
So If You Like Tournaments, There's Plenty At Carbon Poker To Like
There's nothing as fun and entertaining as poker tournaments, and it's no wonder that they are by far the most popular form of poker in the world. So Carbon Poker has plenty of action and are well worth trying out. Did I mention that they will be paying you just to give them a test drive?
As a matter of fact, we've arranged for an exclusive extra special bonus for you, and all of our friends who use our special Carbon Poker bonus code "PBC750" will receive a 150% match of their first deposit and Carbon Poker, up to a maximum of $750 in free bonus money. So write down that code and then click on our link to Carbon Poker and make sure you reserve yours!